Gaysenger 2.0

Gaysenger is a chat client for the gay.

Developer:
Gaysenger
software by Gaysenger →
Price:
0.00
License:
Freeware
File size:
0K
Language:
OS:
Windows Vista

(?)

Rating:

0

/5 (0 votes)
Gaysenger is a chat client for the gay.com chat based on Java.

Gaysenger is independent from your Internet browser and the applet supplied by gay.com and it runs as a separate application.

The unique feature of Gaysenger is its photo gallary based chat functions helps you chat, finding friends and hookups much easier than any existing messenger. It also provides get-around features for non-paid users to access premium features of gay.com.


Gaysenger features
For All Gay.com Users:
Able to log into multiple accounts [Messenger style]

Enhanced bio manager [support multiple bio's]

Easily change your icon image in chat rooms

Enhanced chat room manager with photo gallary

Monitor rooms with all channels

Powerful search & people finder for chat rooms

1-click photo saver

Filter people whom you are not interested in

Anti-spam protection

Log your chat

Extras for Regular (non-premium) Gay.com Users:

View & talk with users without enter rooms

For the conviences of the non premium users, you can contact members from your hot/buddy list:

Automatically re-login to a selected channel on failed attempts

Access to proxy port to view all public member photos [active proxy required]

Play a sound on receiving msg.

Start private chat on click user name in chatroom.

Display previous chat log.

Import chat log from other tools [chattage/gayboi].

Improved image viewer behavior.

tags

gay com chat rooms non premium chat log com users features for from your photo gallary for the

Download Gaysenger 2.0
Authors software

Gaysenger 2.0
Gaysenger

Gaysenger is a chat client for the gay.
Similar software

Gaysenger 2.0
Gaysenger

Gaysenger is a chat client for the gay.

gccc 1.15
Alex Marchard

gccc is a chat client for the gay.

KiBEN ITS Your Chat 1.0 Test Build
KiBEN Softs

KiBEN ITS Your Chat application allows users to create or to join chat rooms.

aliTalk 1.8.2
one

Every webmaster is looking for a fast and great chat script for himself and surely too much chat scripts exist of the web.

Loveline Video Messenger 4.1.3
WWB and DynaScene and Zoopsie Media

Using your Web Cam for Audio/Video Chat with others online, your Loveline Personals Video Messenger provides premiere connections to facilitate these meetings Instant (Private) Messages or Chat Rooms.

Utopia Chat System 8.1
iamcal software

Utopia Chat System is a peer to peer chat system, capable of supporting hundreds of different users over a TCP/IP network.

P2P Messenger 1.0.2
Code Generation

P2P Messenger is an alternative instant messaging program.

Chatablanca 1.7
chat rooms

Chatablanca is a mix of comic and video chat software.

Fomine LAN Chat 1.2
Fomine Software

Fomine LAN Chat is tiny and easy-to-use instant messaging software.

NCN Chat 1.0.0829
NCN Software

NCN Chat is a chat room styled Instant Messenger for Local Area Networks.
Other software in this category

Chat-N-Tickle 5.0
Chatntickle

Chat-N-Tickle is an amazing chat program loaded with features.

MSN Messenger Font Colors 1.5
Robert

It`s very easy: -Select the color you want by moving the bars -Press Apply -Close your chat windows and re-open them.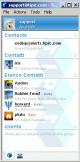 TipicIM 0.7.12
Tipic Inc.

TipicIM can be used with the TIMP IM server or any XMPP/Jabber Compliant Server and is available at no cost for download and usage.

MSN Messenger 4&5 Polygamy
Add Asdfuae

Polygamy let's you use multiple copies of msn messenger at the same time thus allowing you to use multiple accounts at the same time.

Several MSN Messenger Sessions
Robert

THIS version is working ONLY with 4.