P2P Messenger 1.0.2

P2P Messenger is an alternative instant messaging program.

Developer:
Code Generation
software by Code Generation →
Price:
0.00
License:
Freeware
File size:
0K
Language:
OS:
Windows Vista

(?)

Rating:

0

/5 (0 votes)
P2P Messenger is an alternative instant messaging program. p2pmessenger.com is a growing community of people using the P2P Messenger software for communication, chat, cam chat, voice chat and file transfers.

Features:

Instant Messaging, online and offline.

Chat Rooms

User Created Chat Rooms

Private Chats with or without Cam or Voice

File Transfers

Friends Lists

Not Spyware

Limited only by bandwidth

tags

chat rooms file transfers instant messaging p2p messenger

Download P2P Messenger 1.0.2
Authors software

P2P Messenger 1.0.2
Code Generation

P2P Messenger is an alternative instant messaging program.
Similar software

P2P Messenger 1.0.2
Code Generation

P2P Messenger is an alternative instant messaging program.

MSC Messenger 2.2
NetSMS

MSC Messenger is an instant messaging application.

Inbit Messenger 2.9.1
Inbit

Inbit Messenger is secure instant messaging software that will allow your enterprise to reach new levels of collaboration with innovative features beyond the standard enterprise IM package.

Loveline Video Messenger 4.1.3
WWB and DynaScene and Zoopsie Media

Using your Web Cam for Audio/Video Chat with others online, your Loveline Personals Video Messenger provides premiere connections to facilitate these meetings Instant (Private) Messages or Chat Rooms.

Fomine LAN Chat 1.2
Fomine Software

Fomine LAN Chat is tiny and easy-to-use instant messaging software.

NCN Chat 1.0.0829
NCN Software

NCN Chat is a chat room styled Instant Messenger for Local Area Networks.

TryFast Messenger 4.6.1672
Tryfast.com Inc

Using TryFast Messenger you can communicate with voice and video with Yahoo, MSN, ICQ, AIM and Tryfat networks all in the same room Public or Private Video Multi person Meeting rooms for friends or business can also be created Here are some key features of "TryFast Messenger": Video Chat Communicate face to face with your friends on any IM network, see their facial expressions and perceive their body language through Video Chat.

Integrity Messenger 4.11
Integrity Messenger

Integrity Messenger can offer your website its own Instant Messenger, and take you to the next level of communication.

AltME 1.0
SafeWorlds

AltME - The Alternative Messaging Environment is a powerful yet easy-to-use communication system with private chat rooms, messaging forums, and instant applications like checklists & calendars.

Pexit 2.4
Pexit Corp.

Pexit is a multiprotocol, multiplatform instant messaging and chat client.
Other software in this category

Chat-N-Tickle 5.0
Chatntickle

Chat-N-Tickle is an amazing chat program loaded with features.

MSN Messenger Font Colors 1.5
Robert

It`s very easy: -Select the color you want by moving the bars -Press Apply -Close your chat windows and re-open them.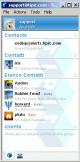 TipicIM 0.7.12
Tipic Inc.

TipicIM can be used with the TIMP IM server or any XMPP/Jabber Compliant Server and is available at no cost for download and usage.

MSN Messenger 4&5 Polygamy
Add Asdfuae

Polygamy let's you use multiple copies of msn messenger at the same time thus allowing you to use multiple accounts at the same time.

Several MSN Messenger Sessions
Robert

THIS version is working ONLY with 4.