SiteLinkChecker 1.0

Site Link Checker checks Web sites for broken links.

Developer:
Nsasoft llc
software by Nsasoft llc →
Price:
0.00
License:
Freeware
File size:
0K
Language:
OS:
Windows XP/Vista

(?)

Rating:

0

/5 (0 votes)
Site Link Checker checks Web sites for broken links. SiteLinkChecker is a free easy-to-use link checker program that helps you maintain the accuracy of links on any webpage. The program will help you easily locate broken links and links containing syntactic errors.

Site Link Checker will search your site, testing each link it finds and report the status of each link. Broken links hurt your professional image and can keep search engine spiders from indexing your whole site. All the mentioned features are provided with a user friendly graphical interface..
tags

broken links link checker each link site link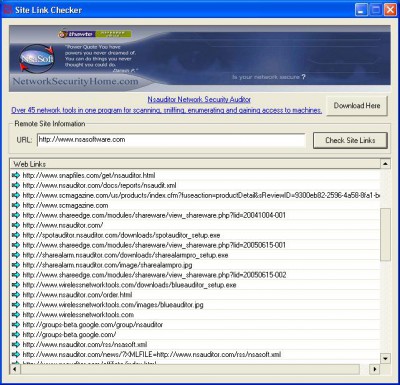 Download SiteLinkChecker 1.0
Authors software

FreePortScanner 3.6.1
Nsasoft LLC

Free Port Scanner is a small, fast, easy-to-use, robust and useful port scanner utility for the Win32 platform.

FreeSnmp 2.0.3
Nsasoft llc

Free SNMP provides basic support for SNMP protocol, allowing users to perform such tasks as viewing MIBs, performing Walk operation.

BhoScanner 1.9
Nsasoft LLC

BhoScanner gives you a quick look at the BHOs installed on Local or Remote PC.

DHCP Explorer 1.0
Nsasoft llc

DhcpExplorer can be used to to discover DHCP servers on your LAN or local subnet.

NetTaskExec 1.3.5
Nsasoft llc

NetTaskExec will schedule commands and programs to run on network or local computers in the near future.
Similar software

SiteLinkChecker 1.0
Nsasoft llc

Site Link Checker checks Web sites for broken links.

REL Link Checker Lite 1.0 Build 180
REL Software

REL Link Checker Lite is a free easy-to-use link checker program that helps you maintain the accuracy of links on your own web site.

Weblink Checker 1.0
AX Gold Software Limited

Weblink Checker is a very simple utility which instantly checks your web site on your PC before you upload it to your web host.

M6.Net Link Checker 1.00
M6.Net

The M6.

Mihov Link Checker 0.5
Miha Psenica

Mihov Link Checker is a software that can check multiple links on a web site or a local web page all within a few mouse click.

Link Checker 1.3
Evolution-Team.net

Link Checker is a little easy to use aplication you can use for link checking before you click on them.

Nesox Link Checker Free Edition 2.0
Nesox Solutions

Nesox Link Checker is a professional tool for webmasters to get web link popularity and PageRank for your websites and your competitors in seconds! It could help you load and extract all of the hyper links from a website, a local or online page.

QuidProQuo 1.04
TJ Enterprises LLC

QuidProQuo automatically scans through your site to locate your link partners.

LinkMachine 1.25
IronZog

The key to success for a website or online business is good search engine ranking.

HyperCare 1.003
SyncEdit software

HyperCare is a powerful application for finding errors of hyper documents - such as html files.
Other software in this category

Google Monitor 2.2.15.31
cleverstat

Free Monitor for Google is a free web promotion application that was designed for search engine specialists and webmasters.

ICLinx 3001 1.1.0
iCubator Labs, LLC

iCubator Labs presents ICLinx 3001 v.

etcetera: Popup Killer 2.44
Pkp Software

etcetera allows you to search the web directly from your browser bar and take control of popup windows.

Able Submitter 2.2
Security Resources Group

Able Submittter was designed to save time and help Webmasters in their site promotion process to search directories and engines.

Re-Search 1.10
Re-Search

Re-Search is a new search product that provides a wonderful way to search the Internet.