BhoScanner 1.9

BhoScanner gives you a quick look at the BHOs installed on Local or Remote PC.

Developer:
Nsasoft LLC
software by Nsasoft LLC →
Price:
0.00
License:
Freeware
File size:
0K
Language:
OS:
Windows Vista

(?)

Rating:

0

/5 (0 votes)
BhoScanner gives you a quick look at the BHOs installed on Local or Remote PC.

It is known that the browser helper objects are loaded each time the browser is started up. Such objects run in the same memory context as the browser and can perform any action on the available windows and modules.

For ex., a browser helper object can install hooks to monitor messages and actions, etc. Some BHOs are helpful, like the Adobe Acrobat or Google Toolbar Browser Helper Objects, but there could be malicious ones among them that will harm your computer, especially those planted by viruses or spyware.

BhoScanner allows you to discover browser helper objects of your computer including parasites and trojans. BhoScanner gives you a quick look at the BHOs installed on Local or Remote PC, tells you by coloured icons ( green icon - safe, yellow icon - unknown, red icon - harmful ) whether specific BHO is known to be safe or harmful. BhoScanner will try to keep your computer clean.
tags

browser helper helper objects your computer the browser bhos installed gives you quick look the bhos bhoscanner gives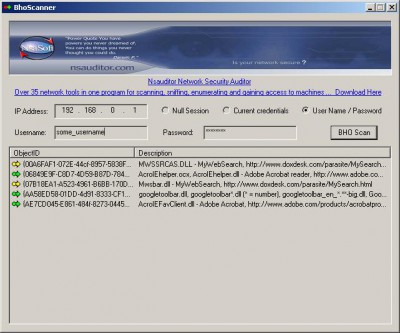 Download BhoScanner 1.9
Authors software

FreePortScanner 3.6.4
Nsasoft LLC

Free Port Scanner is a small, fast, easy-to-use, robust and useful port scanner utility for the Win32 platform.

FreeSnmp 2.0.3
Nsasoft llc

Free SNMP provides basic support for SNMP protocol, allowing users to perform such tasks as viewing MIBs, performing Walk operation.

BhoScanner 1.9
Nsasoft LLC

BhoScanner gives you a quick look at the BHOs installed on Local or Remote PC.

DHCP Explorer 1.0
Nsasoft llc

DhcpExplorer can be used to to discover DHCP servers on your LAN or local subnet.

NetTaskExec 1.3.5
Nsasoft llc

NetTaskExec will schedule commands and programs to run on network or local computers in the near future.
Similar software

BhoScanner 1.9
Nsasoft LLC

BhoScanner gives you a quick look at the BHOs installed on Local or Remote PC.

BHOCaptor 0.5
Adam Stiles

HOCaptor is a freeware program that will let you control the IE Browser Helper Objects that are installed on your computer.

Toolbarcop 3.4
Ramesh Srinivasan

Toolbarcop is a software application that can be used to eliminate malware toolbands, browser helper objects and toolbar icons in Internet Explorer.

BHODemon 2.0.0.23
Definitive Solutions

Think of BHODemon as a guardian for your Internet browser: it protects you from unknown Browser Helper Objects (BHOs), by letting you enable/disable them individually.

RegAuditor 2.2
Nsasoft LLC.

RegAuditor is a software that show you what software from your computer is adware, malware and spyware.

BHOList 1.5
Merijn

BHOList is a simple, but useful frontend for Tony Kleins BHO Collection.

Spyware Browser 7
SILICOM INTERNET

Spyware Browser is a free and useful utility if your are an advanced user.

TaskPatrol Personal 2.0.0
Assembly Developers

Ever wondered what hidden features applications installed on your computer have? Scratching your head with no clue of what are those tasks with cryptic name and no user interface running on your system? TaskPatrol gives you answers to these and many other questions! With the set of advanced security techniques, TaskPatrol will be able to identify and remove malicious programs from your PC.

a-squared (a2) HiJackFree 1.0
Emsi Software GmbH

a-squared HiJackFree is a detailed system analysis tool which will help advanced users to detect and remove all types of Spyware, HiJackers, Adware, Trojans and Worms.

Disspy Lite 3.0.0
H-Desk.com

Disspy scans memory, registry keys and values, cookies, files and folders for all known Data-mining, KeyLoggers, Hijackers, Dialers, Spyware, Adware, BHO's (Browser Helper Objects), Spyware cookies, aggressive advertising and other tracking components.
Other software in this category

CleanCIH 1.6
Proland

Clean your PC from the Win95.

Klez Removal Tool 1.0.11
Symantec Corporation

W32.

WinImp 1.21
Technelysium

WinImp is a new file archiver which not only recognises common archive formats, but also introduces a new, high performance archive format.

Softpit PC Search Light 1.3
Goldmarc Technology AS

The softpit PC search light is a useful utility for people who need to find critical information fast and precisely on their own computer.