Network Password Changer 1.0

Changes password on multiple computers centrally.

Developer:
Twaddle Software
software by Twaddle Software →
Price:
0.00
License:
Freeware
File size:
0K
Language:
OS:
Windows XP/Vista

(?)

Rating:

0

/5 (0 votes)
Changes password on multiple computers centrally. Ideal for centrally changing the Local Administrator password on a group of computers.

Uses the currently logged in user and searches for computers on the network that the user can log in to as a local user, and changes the password of the user remotely.

This will work with domains and workgroups. Given 10 computers which all have a local user account 'fred' with the same password, when 'fred' runs this program, it will attempt to change the passwords on all 10 computers and will report errors if it could not change the password.
tags

change the the password local user the user user and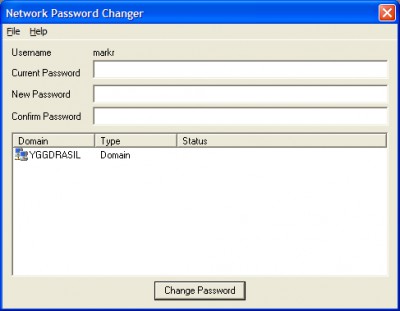 Download Network Password Changer 1.0

Download Network Password Changer 1.0

Authors software

TradUtil 1.02b10
Twaddle Software

TradUtil is an editor and repair tool for the CompuTrac and MetaStock 3.

MODName 1.0
Twaddle Software

MODName renames all the MOD music files in the current directory to the Module Title.

Network Password Changer 1.0
Twaddle Software

Changes password on multiple computers centrally.

Deadlock Avoidance Simulation 1.00
Twaddle Software

Deadlock Avoidance Simulation will simulate the Arc and Path Matrix deadlock avoidance algorithms for up to 9 resources and processes.

SourceSafe Addin 1.00 build 10
Twaddle Software

SourceSafe Addin is a Visual SourceSafe Addin that come woth 2 basic functions.
Similar software

Network Password Changer 1.0
Twaddle Software

Changes password on multiple computers centrally.

PsLoggedOn 1.21
Mark Russinovich

You can determine who is using resources on your local computer with the "net" command ("net session"), however, there is no built-in way to determine who is using the resources of a remote computer.

Steel RunAs 1.0
SteelSonic

Steel Run-As helps you in executing audit commands or any kind of application which runs properly when run only with administrator privileges without having to give the user full rights to his machine.

CachedPasswords 1.0
Scalabium Software

CachedPasswords will allow you to view cached passwords that are stored on local computer.

Password Partner 1.5.6
Home Plan Software

Password Partner was written for your use.

ActMon PWL Password Finder (WASP) 2.03
Activity Computer File PC Netw

ActMon PWL Password Finder (WASP) will displays all passwords of the currently logged in user that are stored in the Microsoft PWL file password database.

Password Gorilla 1.4
Frank Pilhofer

Password Gorilla is an application that helps you manage your logins and passwords.

FTP Password Recovery 1.1.0.0
Aleksandar Boros

FTP Password Recovery can recover passwords for any FTP program.

Network Password Recovery 1.50
Nirsoft

When you connect to a network share on your LAN or to your .

Password Keyper 1.0
Promosoft

Password Keyper is the answer to all of those account passwords and logins you have managed to collect, and can never find.
Other software in this category

WebMon 2.0.1
C. Markwell

WebMon is a freeware web page update monitoring program - it saves you time and keeps you updated by automatically checking web pages to see if they have changed.

EMCO Network Favorites 1.0
Emco Software

Emco Network Favorites can assist when you need to take a backup of remote machines favorites in your network, or copy some favorite link files to remote machines.

VNC for Windows 4.1.2
RealVNC Limited

VNC (Virtual Network Computing) is remote control software which allows you to view and interact with one computer (the "server") using a simple program (the "viewer") on another computer anywhere on the Internet.

WebAdmin 3.3.2
Alt-N Technologies

WebAdmin gives administrators the possibility to securely manage MDaemon 7.

XpressRemote 1.3.1.20
softExpress

XpressRemote is the newest and the most innovative package in the BizDefender suite allowing remote and direct control over the networked computer's desktop.