Network Password Recovery 1.50

When you connect to a network share on your LAN or to your .

Developer:
Nirsoft
software by Nirsoft →
Price:
0.00
License:
Freeware
File size:
0K
Language:
OS:
Windows Vista

(?)

Rating:

0

/5 (0 votes)
When you connect to a network share on your LAN or to your .NET Passport account, Windows XP allows you to save your password in order to use it in each time that you connect the remote server.

This utility will recover all network passwords stored on your system for the current logged-on user.
tags

connect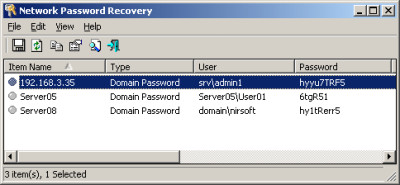 Download Network Password Recovery 1.50

Download Network Password Recovery 1.50

Authors software

Access PassView 1.12
NirSoft

Access PassView 1.

Netscapass 2.03
Nirsoft

Netscapass helps you recover Netscape mail passwords.

IECookiesView 1.79
NirSoft

IECookiesView is a small and handy utility, that displays the details of all cookies that Internet Explorer stores on your computer.

AsterWin 1.20
NirSoft

AsterWin reveals the password stored behind the asterisks in standard password text-boxes as used by many windows applications (FTP clients, E-mail programs etc.

DriverView 1.47
NirSoft

DriverView utility displays the list of all device drivers currently loaded on your system.
Similar software

Network Password Recovery 1.50
Nirsoft

When you connect to a network share on your LAN or to your .

Remote Desktop PassView 1.00
Nir Sofer

Remote Desktop PassView is a little tool which reveals the password stored by Microsoft Remote Desktop Connection utility inside the .

FTP Password Recovery 1.1.0.0
Aleksandar Boros

FTP Password Recovery can recover passwords for any FTP program.

Windows Network Neighborhood Shared Resource Password 2.3
DFG

Windows Network Neighborhood Shared Resource Password tries to recover shared resource passwords on Windows Network Neighborhood (CIFS / SMB).

GOFF Network Backup Solution 1.0.0.6
GOFF Concepts

GOFF Network Backup Solution is your answer to automatic, set it and forget it, backup program.

IE PassView 1.40
Nir Sofer

IE PassView is a small utility that reveals the passwords stored by Internet Explorer browser.

saNetStatus Client 0.52
Shane McAliece

saNetStatus Client is a free software which provides the user with the ability to connect to a saNetStatus Server, in order to download and display any network status information that has been made available by the network administrator.

Change Forgotten Password Lite 2.41
Excode Soft

Did you upgrade your computer and lost an ability to log in to ICQ network? Have you used Total Commander to access your FTP sites so often that you forgot those FTP passwords? Have you visited Web sites that require you to log in, and allowed Microsoft Internet Explorer to cache those logins and passwords? Recover those forgotten passwords and see them in plain text with the Change Forgotten Passwords tool! Change Forgotten Password Lite will let you recover your forggotten passwords, Change Forgotten Passwords will access the passwords stored in the application you specify, instantly decrypt it if the password was protected, and display them to you in plain text, allowing you to replace the password if you want to.

PstPassword 1.00
Nir Sofer

PstPassword is a small tool that will recover lost password of Outlook .

MessenPass 1.42
Nir Sofer

MessenPass is a password recovery tool that reveals the passwords of the following instant messenger applications: - MSN Messenger - Windows Messenger (In Windows XP) - Yahoo Messenger - ICQ Lite 4.
Other software in this category

VisualICE Report Utility 4.7
Visualize Software

VisualICE Report Utility - so what do you do if you would like to know more about what the hacker tried to do, who he is, where he`s from or how to report him to the proper authorities? That`s where VisualICE Report Utility comes in.

Gopher Smoker .06
PivX Sollutions, LLC

PivX Solutions, LLC released a program appropriately named `Gopher Smoker`.

Bouncer for Windows 1.0 RC6
Chris Mason

Bouncer is a network tool which allows you to bypass proxy restrictions and obtain outside connections from an internal LAN.

Slap 1.2.2.0
Security Software

If your like me you run firewall software that tells you when someone tries to access your system.

VisualZone Report Utility 5.7
Visualize Software

VisualZone Report Utility is a report utility and an intrusion analyser for ZoneAlarm and ZoneAlarm Pro.