multimedia › audio other audio tools

software

Ringtone Pimp 1.0
nextpimp.com

Ringtone Pimp is a powerful and free ringtone converter that lets you to create your own ringtones.

Q-Tune 1.0
WheresJames Software

This software package uses your existing sound card to generate pure tones to aid your tuning of a musical instrument.

SigJenny 0.989
NaTCH Engineering

SigJenny turns your PC into a flexible and powerful signal generator for free! It can create numerous waveshapes; sine, triangular, square, noise, etc, and display them graphically.

RndSkin 4.03
Assembly Developers

RndSkin is a simple, customizable front end for WinAmp supporting versions 2.

MidiPiano/Drum 1.8.3
Pianoex

MidiPiano/Drum is an application that offers a MIDI drum rhythm generator.

Abee Compare MP3 0.91
AbeeTech

Abee Compare MP3 will allow you to create a mp3 collection from files on your disks and then compare mp3-files in order to detect files with the same tags (mp3 duplicates).

Ringtone Ripper 2.1.2.0007
Interactive Consolidated, Inc

The Ringtone Ripper software allows you to convert any MP3 or CD track into a ringtone! Create REAL MUSIC ringtones of your favourite tunes anytime Here are some key features of "Ringtone Ripper": · Make Real Music ringtones from your favorite film, artist or latest hit.

m3uEdit2 2.2
Slashback Software

m3uEdit is a VERY simple m3u playlist creator/editor.

Lyrics Browser 1.0
New Music Central

Lyrics Browser is a lyric themed web browser that delivers easy navigation to song lyrics via lyric databases and lyric directories.

Abander MP3 Lyrics Extractor 1.1
SoftArtStudio

Abander MP3 Lyrics Extractor is a free and easy-to-use MP3 Tag Viewer and MP3 Lyrics Extractor.

PK Internet Radio 0.6.4
Pranjal Kumar Hazarika

PK's Internet Radio is a Internet radio player that has the facility to download songs.

Free Video to Mp3 Converter 4.3.3
DVD Video Soft

Free Video to Mp3 Converter is a great tool that will help you extract audio from video and save it as MP3.

M3U To HTML Converter 0.9.5.1
Zach Bardon Software

Want to list your music collection on the Web? Too lazy to keep reworking the HTML every time you change your list? Here's a handy program to convert m3u playlists into HTML, using either normal text, unordered lists, or tables.

Website Music Player 1.0
Creative Design Media

Website Music Player is a useful utility that gives you the possibility to easily add music to you Web site.

FindDuplicate 1.1
Serban Iulian

FindDuplicate is a handy program for searching of identical files .

DataMPX V1.51
MPX center

DataMPX is an application that helps you organize your mp3 files saved on your CD's and hard drives.

m3uEdit1 1.2
Slashback Software

m3uEdit is a VERY simple m3u playlist creator/editor.

Random MixTape Maker 1.0.6.68
Donationcoder.com

Random MixTape Maker will allow you to create custom playlists from multiple mp3 files on your computer.

GDS JukeBox 2.0.0.35
GD Software Att. Brian Bergh

GDS JukeBox is a powerful jukebox for the PC.

OggCarton for Linux 1.0 Beta
Bdexx.com, Inc.

OggCarton is a free, open source, home jukebox system that rips, indexes, and manages playlists for Ogg Vorbis music files.

QuickPlay for Music 1.0
Angel Rift

QuickPlay for Music is for entertainment only.

MultiWave triplex 3.9
fellz.com

MultiWave plays Sound samples through selected Hotkey.

SnapIt! 0.98 Build 23 Beta
SpinDoctor, Inc.

Ever wondered why the mp3, you're listening to is named "07_single-start_me_up.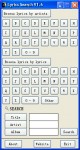 Lyrics Search 1.6
5pMusic.com inc

Tired of slow lyrics finding websites with all their popups? A very useful utility, this can retrieve lyrics by artist or or both artist and song name for a quick find.

PitchPerfect Guitar Tuner 1.01
NCH Swift Sound Software

PitchPerfect is a highly accurate professional guitar tuner with a very simple to use interface.