Random MixTape Maker 1.0.6.68

Random MixTape Maker will allow you to create custom playlists from multiple mp3 files on your computer.

Developer:
Donationcoder.com
software by Donationcoder.com →
Price:
0.00
License:
Freeware
File size:
0K
Language:
OS:
Windows Vista

(?)

Rating:

0

/5 (0 votes)
Random MixTape Maker will allow you to create custom playlists from multiple mp3 files on your computer.

You can use these playlists to burn fresh, always new compilations to a CD or drag & drop to your portable mp3 player, or just save a playlist for your listening pleasure. You have complete control as to how the playlists are created. Controlling such things as song length, compilation size, compilation length, and files/directories you want to exclude allows you to custom tailor playlist creation to fit your needs.

Making "mix tapes" is as old an idea as the tape recorder itself; Random MixTape Maker was made to create a completely unique list of your favorite songs every time you use it, thus taking the hassle of searching through specific songs every time you want to make a mix of your own. Use it to make fresh mixes for your own listening pleasure, or use it to turn your friends on to your genre of music.


Random MixTape Maker features
Limit created playlist by total song duration (good for burning audio CDs)

Limit created playlist by filesize (good for burning mp3 CDs/DVDs)

Limit minimum and maximum durations of songs to include

Recursively searches directories; easy to search one or many.

Flexible blacklist let's you easily skip songs or directories you don't want to include.

Full drag+drop support into the program and from the program out to other apps.

It's fast - just keep hitting the randomize button till you get a playlist you like.

Can randomize existing playlists instead of directories if you prefer.

Output displays mp3 tag info or file paths.

Creates playlist files or plain text output.

Double click to preview a song from the constructed playlist.

tags

random mixtape mixtape maker created playlist limit created good for for burning from the the program your own every time listening pleasure for your directories you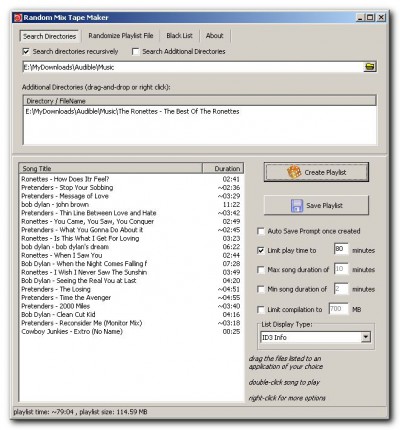 Download Random MixTape Maker 1.0.6.68

Download Random MixTape Maker 1.0.6.68

Authors software

DesktopCoral 1.10.01
DonationCoder.com

DesktopCoral is an unusual program designed to "reserve" some portion of your desktop which is shielded from maximized applications.

The Form Letter Machine 1.15.01
DonationCoder.com

The Form Letter Machine is a program that will help you write repetetive e-mails or documents that tend to be made up of various configurations of preset text paragraphs; a very simple interface will make it easy to combine components.

PopUp Wisdom 1.09.01
DonationCoder.com

PopUp Wisdom will display famous and not-so-famous quotes and humour on deman or at a timed shedule.

DrWindows 1.06.01
DonationCoder.com

Dr.

Drag and Drop Robot 1.15.01
DonationCoder.com

Drag and Drop Shell Robot is a tool to help power users easily peform operations on large numbers of files and folders.
Similar software

Random MixTape Maker 1.0.6.68
Donationcoder.com

Random MixTape Maker will allow you to create custom playlists from multiple mp3 files on your computer.

Shaken, not stirred 1.0
Matthew Ahmed

Shaken Not Stirred is for shuffling large playlists that have multiple entries of songs you want to hear more often than others.

Injuk 0.3.1
Philip Heyse

Injuk (INtelligent JUKebox) allows you to produce compilation CDs or a radio-like 1000 songs playlist.

Random Playlist Creator with Genres 2.0.0.6
W2 Software

Random Playlist Creator with Genres (Yeah, long name, I know.

Winamp Playlist Creator 3.0.3
odd gravITy

The name of the program says it all: With Winamp Playlist Creator you can create playlists for Winamp easily and quickly.

CopyPlaylist 2.50
Tim Schuhmacher

A lot of people have a portable audio player, which can?t store the entire music colletion they have at home.

Advanced Playlist Builder 1.00
Wizetech Software

Advanced Playlist Builder is a playlist maker that scans your computer for MP3 files and displays all files in a detailed list, which you can sort by artist, album, or genre.

VisiTunes 0.9.1
NaiveSoft

What is VisiTunes? VisiTunes is a useful and reliable content-based MP3 playlist generator and jukebox.

Apollo 37zz
Heikki Ylinen

Forget all the other audio players ! If you care about sound quality rather than looks, then this is the ultimate player ;) Apollo is perhaps best recognized by its playlist oriented interface.

iDump 1.1.2 build 23
iDump

iDump will allow you transfer your songs off your iPod to a PC, iDump does come wrapped in installer but you can simply drop the .
Other software in this category

Romanian Language Pack for Winamp 2.7x
Mihai Macarie

Romanian Language pack for Winamp 2.

MP3Ext 3.4.23
Michael Mutschler

MP3Ext is a tool to offer mp3 information that comes an extension for the Windows Explorer.

Soundplant 26
Marcel Blum

Soundplant is a self-contained digital audio performance program that turns your computer keyboard into a fully customizable sample-triggering device.

StreamRipper32 2.6
Streamripper

StreamRipper32 is a windows program which uses the streamripper lib written by Jon Clegg (and now modified by me!).

CDDB MP3 Tool 1.33
Martin Hammer

CDDB MP3 Tool is an utility that will treat a directory of MP3 files as an Audio CD and access a FreeDB (CDDBp) server to retrieve information about the MP3 files.