DrWindows 1.06.01

Dr.

Developer:
DonationCoder.com
software by DonationCoder.com →
Price:
0.00
License:
Freeware
File size:
0K
Language:
OS:
Windows Vista

(?)

Rating:

0

/5 (0 votes)
Dr.Windows is a joke program that will display funny fake windows error messages at random times. They look just like the real windows error messages you know and love except they are funnier. You can use it to play tricks on people. Make your own custom dialogs and share them with the world!
tags

error messages windows error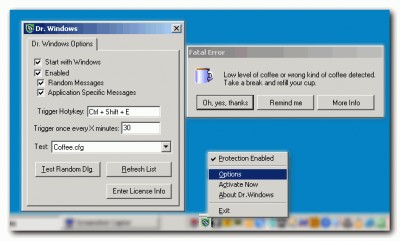 Download DrWindows 1.06.01
Authors software

DesktopCoral 1.10.01
DonationCoder.com

DesktopCoral is an unusual program designed to "reserve" some portion of your desktop which is shielded from maximized applications.

The Form Letter Machine 1.15.01
DonationCoder.com

The Form Letter Machine is a program that will help you write repetetive e-mails or documents that tend to be made up of various configurations of preset text paragraphs; a very simple interface will make it easy to combine components.

PopUp Wisdom 1.09.01
DonationCoder.com

PopUp Wisdom will display famous and not-so-famous quotes and humour on deman or at a timed shedule.

DrWindows 1.06.01
DonationCoder.com

Dr.

Drag and Drop Robot 1.15.01
DonationCoder.com

Drag and Drop Shell Robot is a tool to help power users easily peform operations on large numbers of files and folders.
Similar software

DrWindows 1.06.01
DonationCoder.com

Dr.

Dr.Windows 1.04.01
Mouser

Dr.

Error Messages for Windows 2.9
Gregory Braun

Error Messages for Windows is a small utility that will allow you to look up MS Windows error code numbers and display a descriptive message explaining what the numeric code actually means.

Binaware Error Messages 2006 1.0.0.26 R1
Binaware

Development of windows applications has its specific problems.

WinErrors 1.0
Dukelupus

WinErrors is a small application that searches Windows error messages by error code.

WinError 1.0.0
Chime Softwares Ltd

Just run this small program and it will randomly generate fake window error messages and freak out whoever is using your PC.

Roadkil's Error List 1.1
Roadkil

Displays information relating to a windows error code.

RegistryErrorNuker 1.7
Advanced Systems

PC Error Nuker ! Repair Your PC Now.

Unlocker 1.8.5
Cedrick Collomb

Unlocker is a very useful Windows Explorer extension allowing users with a simple right-click on a file or folder to easily get rid of error message such as error deleting file or folder, cannot delete folder: it's being used by another person or program.

Hey, Joe! 1.5
Alberto Martinez Perez

This program is a simple messaging utility, designed to send messages over Windows local networks and intranets.
Other software in this category

Mouse Move v1.0
RJL Software

Mouse Move is a hidden computer prank that move the users mouse cursor to random positions on the screen.

Fake Delete 3.05
RJL Software

Fake Delete simulates the deletion of all files in the Windows directory or whichever file directory is passed across the command line.

Floppy Madness v1.00
RJL Software

Floppy Madness is a small prank program that will try and access the floppy drive at user specified intervals.

EQuake 1.0
F-Group

EQuake is a small utility for playing a joke on your friends.

3DMark 2003 Teaser
FutureMark

This is a 21 second movie of the upcoming 3DMark03.