DataMPX V1.51

DataMPX is an application that helps you organize your mp3 files saved on your CD's and hard drives.

Developer:
MPX center
software by MPX center →
Price:
0.00
License:
Freeware
File size:
0K
Language:
OS:
Windows Vista

(?)

Rating:

0

/5 (0 votes)
DataMPX is an application that helps you organize your mp3 files saved on your CD's and hard drives.

DataMPX is a tool that lets you catalog your MP3 music collection, regardless of it's being on your hard drive or on removable media, say, ZIP disks or CDs.

The tool has a gorgeous interface and is pretty easy to use and understand. You don't have to type all your collection in the program - the tool is smart enough to import all the information from ID3 tags of your MP3 files.

You can group your collection into several subsets and customize the general appearance of the program. The tool comes with a powerful search feature - now you don't have to browse through hundreds of tracks to find the right one!


DataMPX features
DataMPX is an easy-to-use tool with nice interface (XP look).

powerful audio catalog maker for your mp3 files stored on the CD-ROM discs, hard drives, network drives, optical disks, ZIP and JAZ disks and other mediums with MP3 files.

you can quickly catalog your collection with this tool.

support's ID3 V1.1, ID3 V1.0 and ID3 V2.x tags.

profile settings support for audio files without tags.

two searching methods in database are used.

is optimized for faster searching.

you can manage your searching results.

is compatible with the Mp3 File Editor M3I files (special playlist file).

playlist saving.

sending playlist or songs to players.

you can edit catalog informations.

you can add new (custom) icons and is possible use this icons for album, author or title names.

tags

you can mp3 files your mp3 the tool your collection files you program the you don hard drives catalog your the program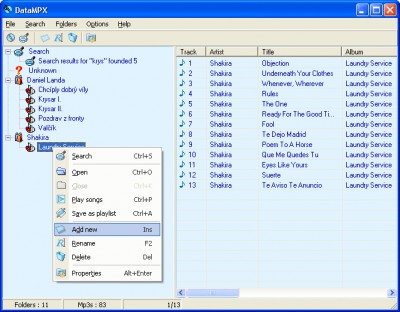 Download DataMPX V1.51
Authors software

mp3-2-wav converter 1.16
MPX center

MP3-2-wav Converter is a free mp3 decoder that allows you to convert MP3 files into WAV files in order to burn them on a CD.

DataMPX V1.51
MPX center

DataMPX is an application that helps you organize your mp3 files saved on your CD's and hard drives.
Similar software

DataMPX V1.51
MPX center

DataMPX is an application that helps you organize your mp3 files saved on your CD's and hard drives.

Professional Disk Catalog 0.1 beta
UltraSoft Corporation

Professional Disk Catalog was designed to help you maintain and organize a collection of your CD-ROMs, hard disks, removable and network drives etc.

KCatalog 1.0
Krishnakumar

KCatalog is an Multimedia catalog tool which allows you to organize huge collection of MP3/Movie files in your hard disks, CD's, DVD's or any other media.

WinCatalog Light 2.6
WinCatalog.com

WinCatalog Light is an easy to use yet powerful disk catalog software that can be used for cataloging disks and files.

Media Catalog Studio Lite 5.5 build 138
ManiacTools

What is Media Catalog Studio? It is the program that can manage catalogs of all multimedia files in your collection.

Visual CD 2.0
Budy Setiawan Kusumah

Visual CD is a disk cataloging tool to index data floppy disks, hard drives, CDs, and folders.

Brainstorm mp3 Catalog 0.5 alpha
st0rm3ru

Brainstorm mp3 Catalog is dedicated to people which have a large collection of mp3 files.

Simple Disk Catalog 1.0c
Bruno Freitas

Simple Disk Catalog scans your disks deeply and generates a catalog of each one in a database.

Abee Compare MP3 0.91
AbeeTech

Abee Compare MP3 will allow you to create a mp3 collection from files on your disks and then compare mp3-files in order to detect files with the same tags (mp3 duplicates).

iStacker 1.0.301
Anthony Ishkan

iStacker is an all-in-one CD/DVD collection catalog creator! iStacker was developed in order to make the task of searching for files and folders in your CD collection extremely fast and easy.
Other software in this category

Romanian Language Pack for Winamp 2.7x
Mihai Macarie

Romanian Language pack for Winamp 2.

MP3Ext 3.4.23
Michael Mutschler

MP3Ext is a tool to offer mp3 information that comes an extension for the Windows Explorer.

Soundplant 26
Marcel Blum

Soundplant is a self-contained digital audio performance program that turns your computer keyboard into a fully customizable sample-triggering device.

StreamRipper32 2.6
Streamripper

StreamRipper32 is a windows program which uses the streamripper lib written by Jon Clegg (and now modified by me!).

CDDB MP3 Tool 1.33
Martin Hammer

CDDB MP3 Tool is an utility that will treat a directory of MP3 files as an Audio CD and access a FreeDB (CDDBp) server to retrieve information about the MP3 files.