Free Audio Mixer 4.0.0.1

Free Audio Mixer is a multi-file audio player.

Developer:
software Pile.com
software by software Pile.com →
Price:
0.00
License:
Freeware
File size:
0K
Language:
OS:
Windows Vista

(?)

Rating:

0

/5 (0 votes)
Free Audio Mixer is a multi-file audio player.

Free Audio Mixer features a simple and useful play list, an audio-level monitor and tester and a lengthy time recorder.

Free Audio Mixer supports MP3 and WAV so it can act as a converter from MP3 to WAV and vice versa. SC Audio DJ Mixer gives the ability to choose the way of playing for both the two playing lists either sequentially or at random.


Free Audio Mixer features
Play and mix MP3 and WAV files.

Play files sequentially or randomly.

Easily search for audio files on your computer.

Manage simple and useful play lists.

Convert MP3 to WAV and vice versa.

Pitch control.

Apply various effects.

Mix sample audio files.

Apply cross fading effects.

Choose from 6 different time loops.

Set up to 5 different cue points for each file.

Record from a microphone.

Save the output to either MP3 or WAV file.

tags

free audio audio mixer and vice wav and vice versa audio files and wav useful play mixer features simple and and useful mp3 and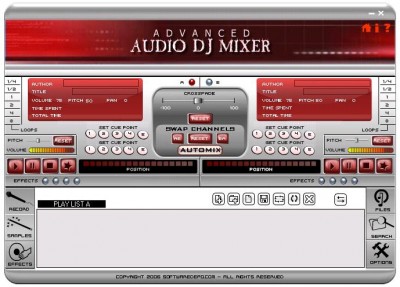 Download Free Audio Mixer 4.0.0.1

Download Free Audio Mixer 4.0.0.1

Authors software

Free Audio Mixer 4.0.0.1
software Pile.com

Free Audio Mixer is a multi-file audio player.

Free Audio Extractor 2.0.0.7
Software Pile.com

With Free Audio Extractor you will be able to extract audio from your favorite video file and save it to your hard drive in any of the following popular audio formats: WAV PCM, MP3 (MPEG Layer-3), WMA (Windows Media Audio), CDA, ALF2, ADPCM, GSM, DSP, A-LAW, U-LAW and Ogg Vorbis.

Free Icon Editor 2.1.0.0
Software Pile.com

Free Icon Editor program for editing and creating icons, cursors and animated cursors - using common editing tools and effects.

Free Spy Message 1.4.0.1
Software Pile.com

The Spy Message is an easy-to-use, reliable and powerful tool for protecting important information that you don't want others to see.

Free System Tweaker 4.1.0.0
Software Pile.com

Free System Tweaker consist of many useful modules that can be launched from the startup screen.
Similar software

Free Audio Mixer 4.0.0.1
software Pile.com

Free Audio Mixer is a multi-file audio player.

OpenSebJ 0.43
Evolving Software

OpenSebJ is a free real time audio sample mixer that runs on Microsoft Windows.

Free CD Replicator 2.1.0.0
Promosoft Corporation

Free CD Replicator is designed to ensure that you can convert any audio file into any possible format so that you can play the music in your car, on your MP3 player or most flash based players.

Tray Play 1.0
Chime Softwares Ltd

Chime Tray Play is a very small, fast, and efficient audio player that can play audio CDs, WAV audio, MIDI, MPEG audio, and Windows Media Audio files.

Batch Audio Converter 1.5
MedaFan Technology

Batch Audio Converter is a free convert software, use this tool can convert your video/audio files into .

EXPStudio Audio Editor 4.0.9
EXPSTUDIO.COM

With this free tool, you can edit your audio files like editing text files, display a waveform window of an audio file and apply zooming; Record new audio file from a microphone or another input device; Visually edit an audio file (Cut, Copy, DeleteSilence, PasteFromFile, Mix, MixFromFile).

Mixere 1.0.82
Chris Korda

Mixere is a free, open-source application for mixing audio files.

RockNAudio 2.7
RocknAudio

RockN Audio is an easy way to find and organize your music, giving you ultimate control of your MP3 / WAV and CD music collection.

AC3 Filter 1.30b
Vigovsky Alexander

AC3Filter is a DirectShow filter for AC3 decoding used to play AVI with AC3 audio tracks and MPEG2.

Raptor Audio 2.0
Raptor Audio

Raptor Audio - A free .
Other software in this category

ZynAddSubFX 2.2.1
Nasca Octavian Paul

ZynAddSubFX is a opensource software synthesizer capable of making a countless number of instruments, from some common heared from expensive hardware to interesting sounds that you'll boost to an amazing universe of sounds.

AddSynth 1.0
Jeff Chandler

AddSynth is a real-time additive synthesizer that contains 16 amplitude envelopes, 16 lfos and 16 oscillators.

Karaoke Anything! 1.0
Atomic Media

Karaoke Anything! is a freeware program that lets you turn your PC into the ultimate karaoke machine! Realtime audio processing allows you to remove the vocals from almost any song making it perfect for karaoke! What song formats can you use? Karaoke Anything! supports both .

gmorgan 0.24
Josep Andreu

MIDI rhythm station emulator software.

AutoMixer 1.1
F-Group Software

The program AutoMixer is intended for automatic control of volume level.