Mixere 1.0.82

Mixere is a free, open-source application for mixing audio files.

Developer:
Chris Korda
software by Chris Korda →
Price:
0.00
License:
GPL
File size:
0K
Language:
OS:
Windows Vista

(?)

Rating:

0

/5 (0 votes)
Mixere is a free, open-source application for mixing audio files. It supports WAV, AIFF, MP3, Ogg Vorbis, Flac, and Mod audio files.

Mixere is optimized for live performance, and especially for creating live sound collage. Conceptually, it's like a rack full of CD players connected to an automated mixer. Mixere's features include dynamic looping of audio, auto-triggering of audio, fully automated sliders, "soft" (gradual) mute/solo operations, crossfading between documents, and unlimited undo.

A Mixere document consists of a number of tracks, each containing a single audio file. Any number of tracks can play simultaneously, subject only to the limits of Windows and sound card performance. Audio is streamed directly from disk, so there's no limit on audio file size, and no waiting for audio to be loaded into memory.

Mixere's interface is similar to a spreadsheet. The rows are tracks, and the columns are properties which can be adjusted for each track: name, transport (play/pause/stop/loop), mute/solo, volume, pan, pitch (+/- one octave), and audio position.


Requirements
PC with a sound card, 566MHz or better

128M of memory

DirectX 8.1 or better

tags

sound card audio file mute solo audio files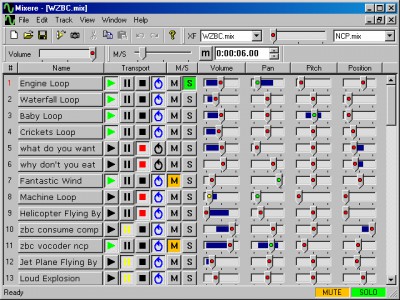 Download Mixere 1.0.82
Authors software

Mixere 1.0.82
Chris Korda

Mixere is a free, open-source application for mixing audio files.
Similar software

Mixere 1.0.82
Chris Korda

Mixere is a free, open-source application for mixing audio files.

3nity Audio CD Extractor 1.0
3nity Ltd

3nity Audio CD Extractor is a powerful, professional application which can extract Digital Audio tracks from an Audio CD into sound files on your hard disk.

Raptor Audio 2.0
Raptor Audio

Raptor Audio - A free .

MixPad 1.01
NCH Swift Sound

MixPad is a useful and multi-track mixing software designed for professional audio production.

Free CD Ripper 1.4
KoYoTe Soft

Free CD Ripper is an easy to use, effective, audio CD ripper, grabber.

Focus Free CD Ripper 3.1
Peng Yutao

Free CD Ripper is a freeware program and easy to use.

dBpowerAMP Audio Player 2.0
Illustrate

dBpowerAMP Audio Player was designed to play Mp3s, WMA, Ogg Vorbis, Monkeys Audio, Real Audio, Wave and Midi.

Free Audio Mixer 4.0.0.1
software Pile.com

Free Audio Mixer is a multi-file audio player.

Slice Audio File Splitter 1.0
NCH Swift Sound

Slice is a free audio file splitter which is designed to take mp3 files and cut them into either a set number of files or files of a set duration.

Advanced Audio Converter Extractor 1.5.0.0
Malware Remover

Converts audio formats from one to another, extract audio from video or record audio to HD.
Other software in this category

ZynAddSubFX 2.2.1
Nasca Octavian Paul

ZynAddSubFX is a opensource software synthesizer capable of making a countless number of instruments, from some common heared from expensive hardware to interesting sounds that you'll boost to an amazing universe of sounds.

AddSynth 1.0
Jeff Chandler

AddSynth is a real-time additive synthesizer that contains 16 amplitude envelopes, 16 lfos and 16 oscillators.

Karaoke Anything! 1.0
Atomic Media

Karaoke Anything! is a freeware program that lets you turn your PC into the ultimate karaoke machine! Realtime audio processing allows you to remove the vocals from almost any song making it perfect for karaoke! What song formats can you use? Karaoke Anything! supports both .

gmorgan 0.24
Josep Andreu

MIDI rhythm station emulator software.

AutoMixer 1.1
F-Group Software

The program AutoMixer is intended for automatic control of volume level.