gmorgan 0.24

MIDI rhythm station emulator software.

Developer:
Josep Andreu
software by Josep Andreu →
Price:
0.00
License:
Freeware
File size:
0K
Language:
OS:
Windows Vista

(?)

Rating:

0

/5 (0 votes)
MIDI rhythm station emulator software. a modern organ for play in real time or sequence, full midi configurable, can export live or sequence performances to MIDI file format.

Maintain 500 patterns, 100 Styles, 100 Sound Combiantion in memory.

Style Library Pattern BD allows easy new pattern creation, can import MIDI files as patterns, input chords can be controlled by mouse, PC keyboard or MIDI keyboard. Sound edition, chord song squencer, guided playback and extensive documentation.
tags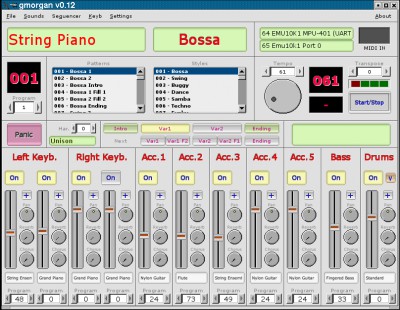 Download gmorgan 0.24
Authors software

gmorgan 0.24
Josep Andreu

MIDI rhythm station emulator software.
Similar software

gmorgan 0.24
Josep Andreu

MIDI rhythm station emulator software.

Virtual Midi Controller LE 2.0.1
Soundco Software

Virtual Midi Controller LE is a midi utility.

Mamba MIDI generator 2.0.12.48
BLUESPOOK

Mamba is a free multi-track MIDI generator.

MIDI Builder 031212
Kurt Kaufman

MIDI Builder will allow the creation of 1 to 4-voice MIDI files in "step-entry" fashion.

Vimidi 1.0
Raimundas Juska

That's right - you can use your mouse and keyboard as a MIDI controller.

QIU QIU MIDI Player 1.02
QIU QIU Software

QIU QIU MIDI Player is a free little program that lets you play midi sounds on your keyboard.

Easymid 2.0
chikito

Easymid was developed as a freeware audio tool that will help you learn to play music with letter notation and color.

Anvil Studio 2007.03.02
Willow Software

Anvil Studio is a free program designed for people who want to: · record music with MIDI and Audio equipment, · compose music for MIDI and Audio equipment, · Sequence music with MIDI equipment, or · play with music using a computer and sound card.

MIDI Scan 1.2.1.5
Alexey Pilguy

MIDI Scan is an utility for researching some usefull information about midi files on your computer.

Proxima Controller 1.0
Zeta Centauri, Inc.

The Proxima Controller is an utility that allows you to use the mouse and computer keyboard to play external MIDI devices such as synthesizers and tone generators.
Other software in this category

ZynAddSubFX 2.2.1
Nasca Octavian Paul

ZynAddSubFX is a opensource software synthesizer capable of making a countless number of instruments, from some common heared from expensive hardware to interesting sounds that you'll boost to an amazing universe of sounds.

AddSynth 1.0
Jeff Chandler

AddSynth is a real-time additive synthesizer that contains 16 amplitude envelopes, 16 lfos and 16 oscillators.

Karaoke Anything! 1.0
Atomic Media

Karaoke Anything! is a freeware program that lets you turn your PC into the ultimate karaoke machine! Realtime audio processing allows you to remove the vocals from almost any song making it perfect for karaoke! What song formats can you use? Karaoke Anything! supports both .

gmorgan 0.24
Josep Andreu

MIDI rhythm station emulator software.

AutoMixer 1.1
F-Group Software

The program AutoMixer is intended for automatic control of volume level.