Catfood Weather 2.10.0016

Developer:
Catfood Software
software by Catfood Software →
Price:
0.00
License:
Freeware
File size:
0K
Language:
OS:
Windows Vista

(?)

Rating:

0

/5 (0 votes)
tags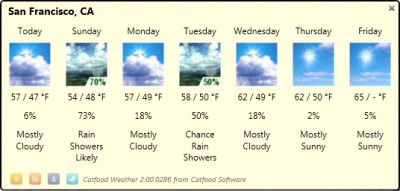 Download Catfood Weather 2.10.0016

Download Catfood Weather 2.10.0016

Authors software

Catfood Fortune Cookies 2.22.0016
Catfood Software

Catfood Fortune Cookies is based on the popular UNIX program Fortune.

Catfood Mail 2.00.0126
Catfood Software



Check MSI 2.00.0023
Catfood Software

Check MSI is a tool for setup programs that checks the version of the Microsoft Windows Installer present on a user's system.

Catfood CamSaver 1.10.0033
Catfood Software

Catfood CamSaver displays live video from any camera connected to your PC as a screensaver.

Catfood Weather 2.10.0016
Catfood Software


Similar software
Other software in this category

Weather Watcher 5.6.22
Singers Creations



Weather Pulse 2.05 Build 36
Tropic Designs



Froggy 3.0.0.0
I-Mates



Weather Depot 1.44
Weather Connections Corporatio



Weather Buddy 1.0.5
Tech Info Systems