Catfood Mail 2.00.0126

Developer:
Catfood Software
software by Catfood Software →
Price:
0.00
License:
Freeware
File size:
0K
Language:
OS:
Windows Vista

(?)

Rating:

0

/5 (0 votes)
tags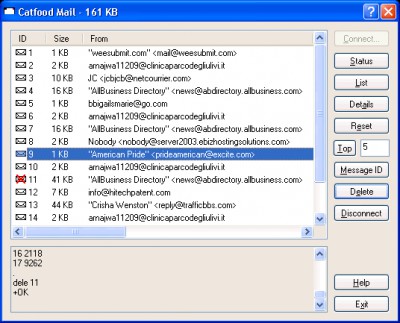 Download Catfood Mail 2.00.0126

Download Catfood Mail 2.00.0126

Authors software

Catfood Fortune Cookies 2.22.0016
Catfood Software

Catfood Fortune Cookies is based on the popular UNIX program Fortune.

Catfood Mail 2.00.0126
Catfood Software



Check MSI 2.00.0023
Catfood Software

Check MSI is a tool for setup programs that checks the version of the Microsoft Windows Installer present on a user's system.

Catfood CamSaver 1.10.0033
Catfood Software

Catfood CamSaver displays live video from any camera connected to your PC as a screensaver.

Catfood Weather 2.10.0016
Catfood Software


Similar software
Other software in this category

E-Mail Remover 3.0
Sharewarist.com

Email Remover connects to your ISP and lists mail headers.

Clippy 1.2.0 Build 20616
Way Out There Software

With Clippy, you`ll be able to remove `>` characters and reformat the text in an e-mail with a single click of a button.

Wings II Email Stationery 1.0a
Cloudeight Internet

Wings II Email Stationery is a set of scrolling, musical email stationery featuring the beautiful bird art of award winning artist Adrian Rigby.

Active Email Monitor 2.F
VicMan Software

Active Email Monitor is an email utility that can check multiple accounts for email, but it can do so much more.

Outport 1.1.19
Outport

Outport is a program for exporting data from Outlook to various formats, including HTML, text, V-card, Rich Text, Outlook item and others.