AFD 2005-11-21

Dialup dialer.

Developer:
Win32 Utils
software by Win32 Utils →
Price:
0.00
License:
Freeware
File size:
0K
Language:
OS:
Windows Vista

(?)

Rating:

0

/5 (0 votes)
Dialup dialer. Modem speed detection for WindowsXP. Server statistics.AFD is a software that dial dialup connection and which detect speed.
tags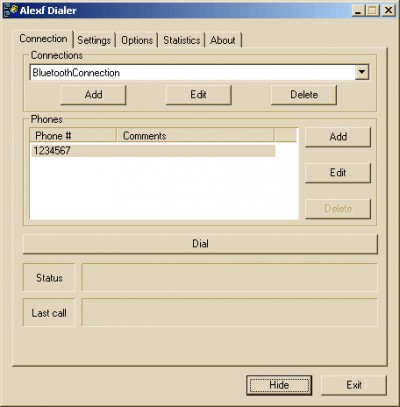 Download AFD 2005-11-21
Authors software

AFD 2005-11-21
Win32 Utils

Dialup dialer.
Similar software

AFD 2005-11-21
Win32 Utils

Dialup dialer.

Dialup Connection Checker 1.32.248
Aster-world

Dialup Connection Checker is for connecting to the Internet by the dialup connection which uses a modem.

hAcx Internet Auto-Dialer 0.1
hAcx

hAcx Internet Auto-Dialer is a free utility that will make sure your always connected to the internet by Auto-Dialing when the internet connection is lost.

101 Contacts 2.07
101 Software

Kiss goodby to that slow XP dialer or the 4 speed dial limitation of the 98 dialer.

Internet Dialer 1.0
FreeTurtles

Internet Dialer is the best alternative solution for the Dial-Up Networking.

NETSPEED 1.10
Winstream

NETSPEED will allow you to tweak your Windows TCP/IP settings in order to achieve better internet performance with Modem Dialup and ADSL/Cable connections.

BySoft Internet Remote Control 2.7.5.192
BySoft

BySoft Internet Remote Control is an application that enables remote monitoring and control of a DialUp connection.

TRasMonitor 1.1
BITLOGIC Software

TRasMonitor - whenever an internet connection is established through the RAS Dialup, usually the ISP assigns a temporary IP address to the calling PC.

DUN AC 1.0.1
Ur I.T. Mate Group

DUN AC, or Dialup Networking Auto-Connection, is a small utility that monitors your Dialup or Broadband connection and re-connects you immediately if you get disconnected.

Free Net Booster Lite 3.1.0.1
Software Pile.com

Are you bored from your internet connection speed? Speed up your modem, Cable, DSL and ISDN (LAN connection) speed Free Net Booster Lite will try for you those settings to give you the most appropriate settings for your own system.
Other software in this category

MessagingYou 1.1.0
MessagingYou

Send a text message to virtually any phone in the U.

Text2SMS 1.0.0.1
Handy Software Lab

Text2SMS is a software application that allows you to send SMS (GSM Short Message Service) about events in your system to your cellular phone.

Bigfoot SMS Manager 2.0
Bigfoot Communications

Bigfoot SMS Manager will allow you to send SMS text messages from your tray to multiple numbers instantly.

eusms.net 1.0
IgluSoft Medien GmbH

eusms.

NotePager 2 3
NotePage, Inc.

NotePager 32 is one of the leading wireless / SMS software applications for small businesses and home users.