eusms.net 1.0

eusms.

Developer:
IgluSoft Medien GmbH
software by IgluSoft Medien GmbH →
Price:
0.00
License:
Freeware
File size:
0K
Language:
OS:
Windows Vista

(?)

Rating:

0

/5 (0 votes)
eusms.net is a free software for Microsoft Windows to send text messages ("SMS") via internet. You just pay the messages you send. You can even set the delivery time, send Flash-SMS or anonymous messages (and read the answer - ideal for customers without a mobile).
tags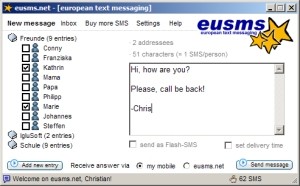 Download eusms.net 1.0
Authors software
Similar software

eusms.net 1.0
IgluSoft Medien GmbH

eusms.

starmsg.com 1.2.9
IgluSoft Medien GmbH

Starmsg.

SMSCOuntry XLbox 1.1
SMSCountry Networks Pvt. Ltd

SMS-XLbox can be used to send Bulk SMS Text messages from Microsoft® Excel® spreadsheet to mobile phones across the world from a PC.

Net Send Spoofer 1.0
Mike Singer

Net Send Spoofer enables you to send anonymous Windows Net Send messages to anyone on your network.

NetSendFaker 1.3.6
Nsasoft LLC.

NetSendFaker is a software application that allows you to send anonymous Net Send messages to anyone that is connected to the network.

Textmessage 1.4
SAFCo Software

Textmessage allows you to send short messages (SMS) to ANY cell phone or e-mail instantly! This is an SMS program that can send text messages to multiple people very quickly.

Mobile Buddy 2006 1.0
Zinek.net

With Mobile Buddy 2006 you can send SMS messages all over the world.

Microsoft SMS Sender 1.0
Microsoft Corporation

SMS Sender is an add-on for Microsoft Windows XP that lets you create and send SMS (text messages) through your GSM cellular phone.

Anonymous NET SEND
Tritonio

Anonymous NET SEND allows you to send messages to other computers on your network using the Windows Messaging Service while faking your name.

SMS Wizard Lite 2.8
Silmaril Software

SMS Wizard is the ultimate application for sending short messages (SMS) to pagers and cellular phones.
Other software in this category

MessagingYou 1.1.0
MessagingYou

Send a text message to virtually any phone in the U.

Text2SMS 1.0.0.1
Handy Software Lab

Text2SMS is a software application that allows you to send SMS (GSM Short Message Service) about events in your system to your cellular phone.

Bigfoot SMS Manager 2.0
Bigfoot Communications

Bigfoot SMS Manager will allow you to send SMS text messages from your tray to multiple numbers instantly.

eusms.net 1.0
IgluSoft Medien GmbH

eusms.

NotePager 2 3
NotePage, Inc.

NotePager 32 is one of the leading wireless / SMS software applications for small businesses and home users.