WW.com Webcam 3

WW.

Developer:
Camarades BV
software by Camarades BV →
Price:
0.00
License:
Freeware
File size:
0K
Language:
OS:
Windows Vista

(?)

Rating:

0

/5 (0 votes)
WW.com ( World of Webcams ) Webcam puts your camera stream on the web instantly.

Get a free web cam homepage and instantly meet and chat with other webcams on ww.com. Works with any PC Camera.

Also, your free webcam page on ww.com includes a chatbox, photo album, webcam postcards and more.

There are thousands of online cams on ww.com ( formerly Camarades ) everyday, with our Elite upgrade you can even easily search, meet, monitor and videochat with all of them.

Welcome to the World of Webcams !
tags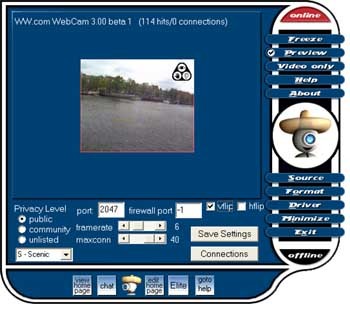 Download WW.com Webcam 3
Authors software

WW.com Webcam 3
Camarades BV

WW.
Similar software

WW.com Webcam 3
Camarades BV

WW.

WebCam Viewer 2.2.0.2002
Daniel Hoffman

WebCam Viewer is a small tool which allows you to view WebCams without surfing to the appending website.

V-CamShow 1.5.3
Virdi Software

V-CamShow is a free webcam slide show and screen saver.

Phonewebcam Explorer 3.5
OTAMate Technology Ltd

Phonewebcam Explorer is a computer application that allows you to manage all your favourite public webcams.

Simple Webcam Capture 1.0
Matt Collinge

Simple Webcam Capture is a simple application that captures screenshots from streaming webcams.

VASAIO 2.1
MacroSoft



Webcam Broadcaster 1.0
Advanced Software Logic

Webcam Broadcaster is a free and easy-to-use webcam broadcast software that works with the Internet.

Cam In Style 1.6
River Past Corporation

Cam in Style is a free and easy-to-use webcam broadcasting utility for businesses and individuals.

Video Chat for Miranda 3.3.0
SoftCab Inc

Video Chat for Miranda is a WebCam Video plugin for Miranda.

Cerberus 3.1 beta
Paul Alan Freshney

Cerberus software is designde to be an easy to use webcam monitoring application.
Other software in this category

Vision 0.4 Beta
Scott D. Barker

Vision is a small, fast utility for taking still images fromnVFW (Video For Windows) devices such as webcams.

WW.com Webcam 3
Camarades BV

WW.

Comet eye lite 1.0
Comet Video Technologies

CometEye is a video monitoring application adapted for home and business users.

Webcam Publisher 1.15
WheresJames Software

WheresJames Webcam Publisher makes it easy for you to publish images to the web.

grabMotion 1.0
Serge Favre

grabMotion is a webcam application with motion detector that is able to send emails with image attachments.