WebSlower 2.0.2

WebSlower is a simple tool that lets you test a website by simulating different connection speeds.

Developer:
Human Profile
software by Human Profile →
Price:
0.00
License:
Freeware
File size:
0K
Language:
OS:
Windows Vista

(?)

Rating:

0

/5 (0 votes)
WebSlower is a simple tool that lets you test a website by simulating different connection speeds.

It runs as a local proxy server and redirects the request, thereby throttling the bandwidth to simulate the selected connection speed. The available selection include various modem types as well as high speed connections, and can be further customized.

Good for testing web pages or multimedia material (Flash etc.), to see how modem users experience the site. The slowed down page is launched in your normal default browser and clicking on links will continue to use the slow settings.
tags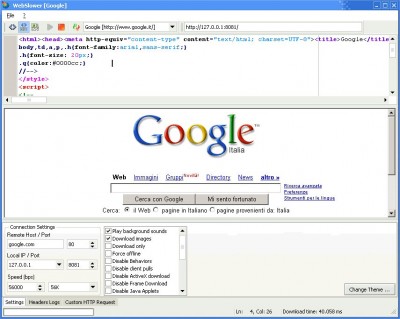 Download WebSlower 2.0.2
Authors software
Similar software

WebSlower 2.0.2
Human Profile

WebSlower is a simple tool that lets you test a website by simulating different connection speeds.

Free Net Booster Lite 3.1.0.1
Software Pile.com

Are you bored from your internet connection speed? Speed up your modem, Cable, DSL and ISDN (LAN connection) speed Free Net Booster Lite will try for you those settings to give you the most appropriate settings for your own system.

Broadband Speed Test 1
Remotediag

Internet Speed Test is a free and useful tool that measures download and upload bandwidth/speed for your broadband connection.

febooti fileTweak Download Speed 2.0
Febooti Software

Internet download speed test measures your connection (download) speed and compares it to various standard connection types (T1, Cable modem, DSL, V.

MySpeed PC 1.3a
visualware

MySpeed PC is a downloadable speed test software that accurately measures your Internet connection bandwidth, and provides an easy to understand report of your download and upload speeds and connection quality.

TrafficCompressor 2.0.403
TrafLabs Software

TrafficCompressor is a service that works like a universal compressing proxy server.

TZ Connection Booster Wizard 2.6.0.0
TrackZapper.com

Connection Booster Wizzard can configure any modem, ADSL, Cable, DSL and LAN connection types for faster surfing the Web, playing online games, and downloading files.

MySpeed Personal Edition 1.3a
Visualware Inc

MySpeed accurately measures broadband download and upload connection speeds by timing actual data transfers between an Internet server and end-user computer.

NETSPEED 1.10
Winstream

NETSPEED will allow you to tweak your Windows TCP/IP settings in order to achieve better internet performance with Modem Dialup and ADSL/Cable connections.

Enter the Internet Registr 3.0
Viper Chua

Enter the Internet Registry is a powerful tool to tweak some of the internet settings found in Windows Registry which can boost your internet connection by 20-50%.
Other software in this category

MultiSearchPRO 1.0.0 Beta
Yonatan Matalon

MultiSearchPRO enables you to search for web pages from several search engines simultaneously quickly and easily.

RomPhone 2000 2.1
Anunt Online

RomPhone 2000 is a aplication used to find online telephone numbers and addresses of the romanian people.

2002 FIFA World Cup Informer 1.9
A.I.Studio

2002 FIFA World Cup Informer will keep you informed of all FIFA World Cup events.

FirstStop WebSearch Standard Edition 5.0b
FirstStop WebSearch LLC

FirstStop WebSearch Standard Edition is incredibly fast desktop application which can searches multiple search engines and web sites simultaneously for a more comprehensive Internet experience.

Help me find site 0.9.2003
Softexe.com, CIT AdaSoft

This utility helps to find new sites all over the world.