Web Email Cloaker 103.138a

Web Email Cloaker is a simple program for webmasters to beat the spam-spiders by cloaking email contact information in obfuscated or complex JavaScript code.

Developer:
HotNacho, Inc.
software by HotNacho, Inc. →
Price:
0.00
License:
Freeware
File size:
0K
Language:
OS:
Windows Vista

(?)

Rating:

0

/5 (0 votes)
Web Email Cloaker is a simple program for webmasters to beat the spam-spiders by cloaking email contact information in obfuscated or complex JavaScript code.

Web Email Cloaker uses multiple methods of cloaking together to create email contact code that displays correctly but is utterly unreadable by email-hunting spam robots.

If you ever add your contact information to a web page, you should make sure to cloak your email address to prevent it from being harvested by common spam-spiders.

EmailCloaker makes this easy by generating the cloaked HTML code from your email address.

"Simple HTML Cloak" numerically encodes your email address - which should stop most spiders and works with all browsers.

"Advanced JavaScript Cloak" is a powerful technique combining four good cloaking methods. 1) encoding 2) mailto-hiding 3) JavaScript generation and 4) email part-splitting. I seriously doubt that any spam-spider will be able to circumvent this level of cloaking!

To use, download and run - the program is entirely self-contained and requires no installation (it can also be run directly from fixed media such as Flash card or CD).


Web Email Cloaker features
It's simple! No training required and no learning curve

No DLLs installed and no IE dependencies to conflict with other software

Compact and simple - just one 180k executable file - no installation

Works with all versions of Windows 95/98/ME/NT/2/XP

No spy-ware, no ad-ware no parasites

tags

your email email address email cloaker web email with all works with contact information spam spiders email contact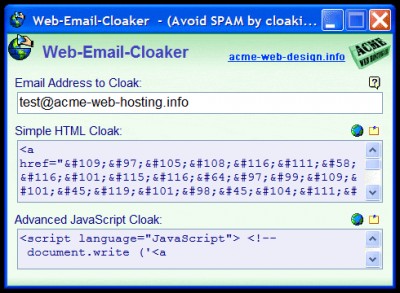 Download Web Email Cloaker 103.138a

Download Web Email Cloaker 103.138a

Authors software
Similar software

Web Email Cloaker 103.138a
HotNacho, Inc.

Web Email Cloaker is a simple program for webmasters to beat the spam-spiders by cloaking email contact information in obfuscated or complex JavaScript code.

Email Cloaker for Web 1.21
A!K Research Labs

Email Cloaker for Web is a simple application that generates code that cloaks e-mail addresses in HTML and prevents them from being harvested by spambots.

HTML-Email-Cloaker 1.0
Web Tools

HTML-Email-Cloaker is a free and powerful HTML-Email obfuscating tool which will transform your email address into a form that cannot be read by spiders.

3J - Email Link Creator 3.0.0
AADConsulting

Now you can fight SPAM by encrypting your email address! SPAM often originates from your own web pages by placing your email address in your web site pages.

Email Address Encoder 1.0
Email Encoder

Easy to use, email address encoder software will hide a website email address from spammers.

Renegade Email Protector 1.0
Renegade Minds

The Renegade Email Protector is a simple tool that munges email addresses so that spambots can't harvest email addresses off of your web site.

E Cloaker 2.0
CodeFoot.com

E Cloaker is a simple utility that converts the characters of email addresses and text into browser-readable Unicode, making it more difficult for spam extractor bots to harvest email addresses from your web page.

Excellence Protect E-Mail 1.0
Excellence Software Inc

Excellence Protect E-Mail is a free utility that can reduce spam and junk email by using JavaScript to hide your address from spam-bots.

EScrambler - Webmaster Antispam Utility 2.10.04
InnerPeace.Org

Are you getting too much junk email from your web site? Provide your email addresses to legitimate visitors of your web site without ending up on more junk email lists.

Web Design Toy 102.141a
Acme Web Design Info

Web Design Toy provides a deceptively simple split-window layout.
Other software in this category

AAScripter 2.0
Ali Almossawi

AAScripter is a very useful software that contains more than 200 scripts which are useful for all webmasters.

Color Set 2.3
Arisesoft

Color Set utilizes an elegant-looking interface to help you choose the best color scheme for your website.

Gradientex 1.2
SILVERAGE Software

With Gradientex, you will easily create interesing gradient text sections for headings, labels and alike elements.

REL Link Checker Lite 1.0 Build 180
REL Software

REL Link Checker Lite is a free easy-to-use link checker program that helps you maintain the accuracy of links on your own web site.

Pixie 2.0
NattyWare

Pixie is a software designed to be a easy-to-use, fast, and small color-picker specially to fit the needs of Webmasters and designers.