TM Google Site Analyzer 1.00

Analyze site for Google.

Developer:
TM Services
software by TM Services →
Price:
0.00
License:
Freeware
File size:
0K
Language:
OS:
Windows Vista

(?)

Rating:

0

/5 (0 votes)
Analyze site for Google. This program allows you analyse your web site: get Google PagaRank, incomming and outgoing links for each page of your web site.

You may vary the depth of analysis: get information for only level 1 links, 2 etc. TM Google Analyzer shows the size, backlinks, internal and external links, internal rank, Google PageRank for each page on your web site.

By double clicking on the link address in the program grid you will get new window with 2 tabsheets. First tabsheet shows the HTML code of the page and document information like "Date, Server type, Transfer-Encoding, Content-Type".

Second tabsheet loads this page, you may see this like in the web browser. Through the analysis you can stop the process, change the analysis level and resume the process. If you like you can export analysis results into HTML file.

TM Google Analyzer saves your analysis projects with domain name you observed and you can load them later.
tags

you can web site your web the analysis the process shows the you may for each each page google analyzer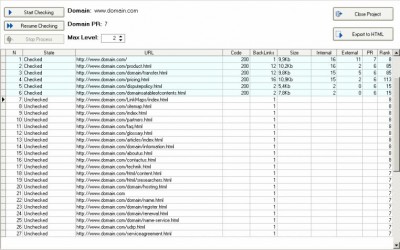 Download TM Google Site Analyzer 1.00

Download TM Google Site Analyzer 1.00

Authors software

GooPR 1.00
TM Services

Put the web address into the field, press Enter, get Google result.

TM Google Site Analyzer 1.00
TM Services

Analyze site for Google.

TM RSS Toolkit 1.00
TM Services

TM RSS Toolkit is a useful program that will collect rss feeds for checking and reading news.

Desktop Loan Repayment Calculator 1.00
TM Services

With Desktop Loan Repayment Calculator you can input source values, and then press the button to calculate the repayment amount.

TM Desktop Metric Conversion Calculator 1.00
TM Services

TM Desktop Metric Conversion Calculator is a simple utility which gives you the opportunity to get any measure conversion.
Similar software

TM Google Site Analyzer 1.00
TM Services

Analyze site for Google.

PaRameter 1.4
CleverStat

PaRaMeter stands for "Page Rank Meter" - the meter of Google PageRank which is one of the web ranking important parameters.

Wsa - Search For Web Files 1.7.0.0
Miltiadis Mitrakas

Wsa is a useful, free and powerful "Web Site Analyzer", focused on finding and downloading files from the Internet.

Jvw Google rank and pagerank finder 1.0
Jimmy's Value World

A free search engine optimization software by Jvw at google-ranking.

SiteMapBuilder.NET 1.5
SiteMapBuilder.NET

Site Map Builder allows you to create the Google SiteMaps XML needed within your root directory in order to provide information about your site to Google.

Webmasters Tool 1.0.0
MicraCom

Run a submission campaign controlled entirely by you not the software The webmasters tool will only pre-populate web pages and not auto submit keeping you in control.

eXpress PageRank Revealer 1.0.3
irnis.net

eXpress PageRank Revealer is a small and useful program that allows you to retrieve the Google page rank rating for any given site, without having to install the Google toolbar, or even open your browser.

SEO for Firefox 1.5.0.7b
Aaron Wall

Want to know why Google or Yahoo! ranks pages? If so this is the Firefox extension for you.

SEO SpyGlass 4.5.7
Link-Assistant.com: SEO Softwa

Have you ever wondered why your competitors are ranked #1 in major search engines, while your own site is stuck on page 24 in Google? Not anymore! SEO SpyGlass will take the mystery out of why your competition are ranking well -- instantly! SEO SpyGlass is an extremely powerful competition research tool that is amazingly easy to use.

LinkSpirit 1.27
Zapman

PageRank of your pages is one of the main factor that decide of their positions in the results of search engines.
Other software in this category

MultiSearchPRO 1.0.0 Beta
Yonatan Matalon

MultiSearchPRO enables you to search for web pages from several search engines simultaneously quickly and easily.

RomPhone 2000 2.1
Anunt Online

RomPhone 2000 is a aplication used to find online telephone numbers and addresses of the romanian people.

2002 FIFA World Cup Informer 1.9
A.I.Studio

2002 FIFA World Cup Informer will keep you informed of all FIFA World Cup events.

FirstStop WebSearch Standard Edition 5.0b
FirstStop WebSearch LLC

FirstStop WebSearch Standard Edition is incredibly fast desktop application which can searches multiple search engines and web sites simultaneously for a more comprehensive Internet experience.

Help me find site 0.9.2003
Softexe.com, CIT AdaSoft

This utility helps to find new sites all over the world.