SliceTheWeb 1.6.42

While surfing the web, you often have to save some data and web pages to the disk.

Developer:
VersusLab, Ltd.
software by VersusLab, Ltd. →
Price:
0.00
License:
Freeware
File size:
0K
Language:
OS:
Windows Vista

(?)

Rating:

0

/5 (0 votes)
While surfing the web, you often have to save some data and web pages to the disk. If you need only one paragraph from a whole page, you have to save the entire page. In a while there appear a lot of unarranged pages on your hard disk.

SliceTheWeb is a small, but very useful utility that allows you to arrange and store both whole web pages and their fragments in the txt, HTML or MHTML formats, search the saved notes (also called web slices), print them. You can add such web slices from the browser Microsoft Internet Explorer 5.5 or higher with just one mouse click.

With SliceTheWeb, you will always have the notes you need at hand, even if you are not connected to the Internet. Storing web slices on your hard disk will save Internet traffic, while the convenient system of grouping them will allow you to find the one you need quickly and easily.


SliceTheWeb features
You can add both a whole page and any fragment from it as a web slice;

Specifying any format for each web slice with the support of the following formats: text, HTML, MHTML;

The convenient system for grouping your web slices; The following grouping methods are supported: by folders, by dates of addition, by the URLs of web sites;

Printing notes;

Searching notes;

If there are links to web pages on the Internet in a web slice, you can surf the web right from the window for viewing web slices;

Saving Internet traffic;


Limitations
Can create 50 web slices (notes) only

tags

web slices web slice you can web pages you need internet traffic the convenient convenient system the internet the following from the your hard hard disk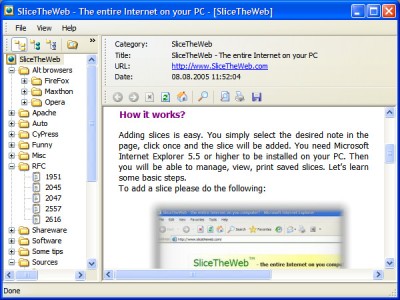 Download SliceTheWeb 1.6.42
Authors software

SliceTheWeb 1.6.42
VersusLab, Ltd.

While surfing the web, you often have to save some data and web pages to the disk.
Similar software

SliceTheWeb 1.6.42
VersusLab, Ltd.

While surfing the web, you often have to save some data and web pages to the disk.

Easy Notes 5.13
Numen Technology Co. Ltd.

Easy Notes is an Easy-to-Use and Powerful Utility for Storing or managing Notes.

Download URLs utility 1.0
Advance Utility

Download URLs utility.

Slice-n-Save 1.08
RTSoftware

Slice-n-Save an award-winning file splitting program.

ScrapBook 1.16
Gomita

ScrapBook is a Firefox extension that allows you to save Web pages and easily manage collections.

Page Links 1.0
4ComTech

Page Links is a simple MDI ( Multi Document Interface) web browser based on Internet Explorer that allows the user to browse multiple sites simultaneously.

AvniTech WhizNote 3.5.8
AvniTech Solutions

Are you finding it difficult to manage so many text files with Notepad? Use AvniTech WhizNote to keep hundreds of related notes in one file.

PurpleBunny 1.0
Jerry Liu

PurpleBunny is a useful Firefox extension that allows you to quickly and easily read and write comments about the web page you're viewing.

SiNotes 1.0RC1c
Ilya V. Yalovoy

SiNotes is a simple desktop notes manager allowing you to create electronic desktop notes, search them in very convenient way and display them.

Internet Explorer Developer Toolbar Beta 3
Microsoft Corporation

The Internet Explorer Developer Toolbar is a useful utility that provides several features for exploring and understanding Web pages.
Other software in this category

Express Web Image Grabber 1.68
ExpressSoft, Inc

Express Web Image Grabber is a free version of the Express WebPictures software.

NewsOnPics 1.03.00
Oscar Agreda

NewsOnPics will retrieve the latest and most impacting pictures from top news web sites and create a Screen Saver with those pictures and their news stories.

Mihov Picture Downloader 1.5
Miha Psenica

Mihov Picture Downloader is a useful and handy utility you can use for downloading all the pictures from one or several web pages.

WebReaper 10
Mark Otway

WebReaper is web crawler or spider, which can search through a website, downloading pages, pictures and objects that it finds so that they can be viewed locally, offline.

MM3-WebAssistant Private 2005
MM3Tools Muenzenberger GbR

The proxy offline browser archives all websites you have visited online.