rss2html 3.15

A free PHP script, converts RSS feeds to HTML.

Developer:
NotePage Inc
software by NotePage Inc →
Price:
0.00
License:
Freeware
File size:
0K
Language:
OS:
Windows Vista

(?)

Rating:

0

/5 (0 votes)
A free PHP script, converts RSS feeds to HTML. The rss2html.php script allows webmasters to display RSS feeds on their website.

RSS or Really Simple Syndication, as it is commonly known, is a technology that gives webmasters the ability to to easily distribute and publish syndicated content on the Internet.

Most webmasters understand the potential benefits of making RSS feeds available for viewing in a web browser.

FeedForAll's new rss2html.php script allows users to create webpages that will always display the most current information from the RSS feed, and because the resulting page is pure HTML, it will be in a format friendly to search engine robots.

Using rss2html.php webmasters can customize the format and look of the web page created from the feed.

The RSS feed's contents can easily be integrated into an existing website's theme.

e rss2html.php script parses the RSS file, extracts the pertinent information, formats it, and serves it up as regular HTML.

The rss2html.php script runs on any webserver that can run PHP scripts, and it support feeds in the RSS 2.0, .93, .92, .91, or .90 format.
tags

php script rss2html php the rss rss feeds rss feed from the script allows the rss2html html the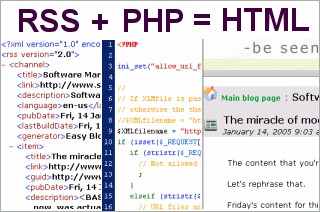 Download rss2html 3.15
Authors software

rss2html 3.15
NotePage Inc

A free PHP script, converts RSS feeds to HTML.
Similar software

rss2html 3.15
NotePage Inc

A free PHP script, converts RSS feeds to HTML.

RSS2HTML Scout 1.40
Eugene Mironichev

RSS2HTML Scout is a freeware ActiveX / .

Feed2Html Free PHP Script 1.41
ExtraLabs Software

Feed2Html is a free PHP script that converts data from RSS to HTML.

RSS Proxy 1.0 Alpha 3
depl0y

RSS Proxy is a useful, free and small application which I made because RSS feeds sometimes have this 'problem', everyone who ever used RSS feeds knows what I am taling about.

Active Web Reader 2.49
DeskShare

Active Web Reader is a FREE web feed reader (aggregator).

RSSNewsTicker 0.9.6
RSSNewsTicker.com

RSSNewsTicker is a new ticker applications for displaying RSS (Really Simple Syndication) feeds, you can click on any feed item and go straight to the link! Download it here RSS is an XML format used for syndicating news and similar content from online news sources.

AgileRss 2.0
Elfs Software

AgileRss - desktop aggregator that is able to display any RSS, ATOM, and XML news feed It also allows you to keep up-to-date with all your favourite sources of information that support the RSS protocol.

AAScripter 2.0
Ali Almossawi

AAScripter is a very useful software that contains more than 200 scripts which are useful for all webmasters.

News Messenger 3.5.2650.23468
Pedro Miguel C. Cardoso

News Messenger allows you to read atom, rss feeds and even to parse html pages so you can read headlines from sites that don't support syndication.

FeedSpring 0.93b
usablelabs.com

FeedSpring is FREE feed generator software.
Other software in this category

GFI WebMonitor for ISA Server 3.1 Build 20060106
GFI Software

GFI WebMonitor for ISA Server is a utility for ISA Server that allows you to monitor all current connections active on ISA Server.

ID Serve 1.02
Gibson Research Corporation

The Microsoft Internet Information Server (IIS) Worm Wars of 2001 demonstrated that not all web servers are equally secure.

Mach5 FastStats Analyzer Free 4.1.7
Mach5 Enterprises

Super-fast site log file analysis with SmartDNS lookup.

Microsoft Systems Management Server 2003 Toolkit 1
Microsoft Corp.

Microsoft Systems Management Server 2003 Toolkit tools work with SMS 2003 and are available only in English-language versions.

Microsoft ISA Server 2006 Beta 5272
Microsoft Corp.

ISA Server 2006 is the integrated edge security gateway that helps protect your IT environment from Internet-based threats while enabling your users to be more productive with secure, anytime, anywhere access to Microsoft applications and data.