Optimize GUITIDY 1.02

Developer:
Dirk Paehl
software by Dirk Paehl →
Price:
0.00
License:
Freeware
File size:
0K
Language:
OS:
Windows Vista

(?)

Rating:

0

/5 (0 votes)
Optimize your HTML very easy and fast
tags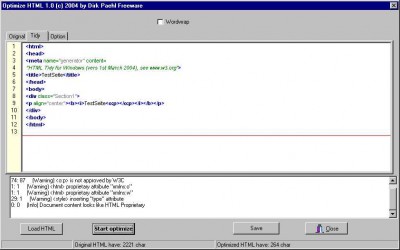 Download Optimize GUITIDY 1.02

Download Optimize GUITIDY 1.02

Authors software

EasyISO 1.3
Dirk Paehl

EasyISO is a simple, no install (standalone) CD Burning application with support for CDR/CDRW, DVD-R, DVD-RW and DVD+RW, EasyISO provides on-the-fly burning without creating any temporary files.

DPSERVER 1.0 beta
Dirk Paehl

DPSERVER is a WEBSERVER with : - Support PHP.

GUIPDFTK 0.48
Dirk Paehl

If PDF is electronic paper, then pdftk is an electronic staple-remover, hole-punch, binder, secret-decoder-ring, and X-Ray-glasses.

SimpEdit 1.0.052
Dirk Paehl

Notepad replacement with Syntax highlight for at this time 16.

AmoK Playlist Copy 2.01
Dirk Paehl

AmoK Playlist CoPy will let you import and export from many Winamp playlists (*.
Similar software

Optimize GUITIDY 1.02
Dirk Paehl



Lambda HTML Editor 1.0.4
Marc-André Lamothe

Lambda HTML Editor is a very simple and easy to use HTML editor.

Easy Text To HTML Converter 3.0.0
easy HTools

Easy Text To HTML Converter is a useful program that provides fast and easy conversion of Text Files (in *.

FireTune 1.2.0
TotalIdea Software

FireTune for Mozilla Firefox was developed for an easy and fast optimization of your browsing experience with Firefox.

HTMLSqueeze 1.0.3.0
Mindwarp Consultancy Ltd

It's a command line utility to compress / optimize web pages.

Disk Optimise 1.0
Petros Pouroullis

Disk Optimise is a free application which helps optimize or partially optimize file allocation to a disk.

Optimizer XP 3.5 XG
Windows X

Optimizer XP helps you optimize your computer to its best performance with no options.

CM DiskCleaner 1.8.7
CM Data

Clean your computer and improve performance.

HTML Compress 5.5
FreeSoft

HTML Compress will compress HTML by removing unnecessary white space characters such as carriage returns, line feeds, spaces etc It also has the capability to remove certain HTML tags.

PageBreeze Free HTML Editor 4.0b
FormBreeze.com

PageBreeze is a powerful HTML Editor which has both visual (WYSIWYG) and HTML tag modes.
Other software in this category

MPS HTMLGate 12.2.0
mpsoftware

Advanced coding features with syntax support enables you to quickly and instantly create, edit and publish HTML 4, XHTML 2, JavaScript 1.

Matrix Y2K 7.1
WTM Software.nl

Matrix Y2K is a code based HTML editor for novice and advanced users.

Web-Edit 2002 1.0.5
Colin Harman

Web-Edit 2002 is a simple, MDI enhanced HTML Editor, with syntax coloring and several wizard-style features for creating tables, inserting images and frames.

Matrix Y2K 2005 SE
M.A. van IJperen

Matrix Y2K is a code based HTML editing application that can be used by both novice and advanced users.

Alleycode HTML Editor 2.21
Konae Technologies, Inc

Alleycode HTML is an intuitive, robust and fully functional HTML editor.