Exalead one:desktop 4.5.68.20

Exalead one:desktop, the desktop search engine that adapts to you.

Developer:
Exalead SA.
software by Exalead SA. →
Price:
0.00
License:
Freeware
File size:
0K
Language:
OS:
Windows Vista

(?)

Rating:

0

/5 (0 votes)
Exalead one:desktop, the desktop search engine that adapts to you. Lightweight to download and easy to install, exalead one:desktop is up and running in a few minutes. Its lightning fast indexing will process your hard drive, multimedia files, Microsoft Outlook Express or Microsoft Outlook e-mails, contacts, tasks and notes, as well as your network drives.

With its unified user interface and its patented navigation system, exaleadone:desktop gives you the fastest way to find relevant information. Simply enter a relevant search term and then narrow down your search by clicking on related terms, familiar classification features like e-mail sender, document type, date, or language.

Exalead one:desktop is a desktop and web search engine that creates personal index.

You can further explore search results using your own e-mail or hard disk folder hierarchies and sort search results by date or size. No longer will you have problems related to inverted or double letters: exalead one:desktop automatically suggests the correct spelling of misspelled words and allows for approximate or "fuzzy" searches.

At every stage of your searching process, exalead one:desktop guides you visually through your search results. With exalead one: desktop's targeted document extracts, document thumbnails, document preview pane with search terms highlighted, format icons and document ID cards, there is no more need to open a document to evaluate its relevancy.

Fully compliant with existing enterprise security policies, exalead one:desktop respects your computer security settings and access rights, caching policies and privacy. The software never connects to the Internet unless you ask to. Additionally, exalead one:desktop does not index cached files or secure pages. Several users can share the same PC with total confidence.
tags

exalead one one desktop search results your search engine that search engine microsoft outlook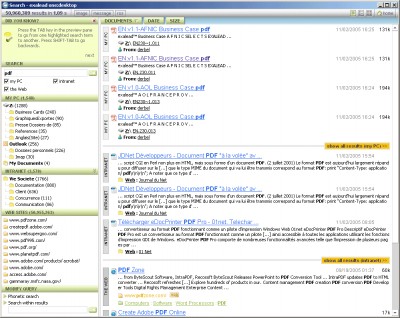 Download Exalead one:desktop 4.5.68.20

Download Exalead one:desktop 4.5.68.20

Authors software

Exalead one:desktop 4.5.68.20
Exalead SA.

Exalead one:desktop, the desktop search engine that adapts to you.
Similar software

Exalead one:desktop 4.5.68.20
Exalead SA.

Exalead one:desktop, the desktop search engine that adapts to you.

Windows Desktop Search 3.0.1
Microsoft Corporation

Windows Desktop Search (WDS) will help you find virtually anything on your computer or your networked drives including e-mail messages, documents, calendar appointments and more.

AOL Desktop Search 2.0.39.1 Final
AOL

AOL Desktop Search allows you to easily and quickly find and preview documents, music, pictures, videos and e-mail files on your own computer using key words and phrases.

Copernic Desktop Search 2.02.2526
Copernic Technologies, Inc.

Copernic Desktop Search gives you the possibility to instantly find files, images, multimedia, emails and more, that is located on your PC (not the Internet).

Yahoo! Desktop Search 1.2 Build 1852jc
Yahoo! Inc.

Yahoo! Desktop Search will help you quickly locate almost any file on your computer, including email, spreadsheets, images, Microsoft Outlook contacts, and many more.

Desktop Multi Search Engine 1.2
MultiZ

Desktop Multi Search Engine is a free search engine that allows you to search any search engine you choose; you can download it to your desktop so you won't have to load the main search engines' homepages ever again.

Google Desktop 5.1.703.13372
Google

Google Desktop will offer full text search over your email, computer files, chats, and the web pages you've viewed.

Mindbreeze Desktop Search 2.0
Mindbreeze Software GmbH

Mindbreeze Desktop Search is one of the fastest and most reliable desktop search applications available.

Google Desktop Search plugin beta
IFilterShop

With the release of IFilterShop Google Desktop Search plugin, users of Google Desktop Search can take advantage of existing IFilter components for indexing of wide selection of file formats.

MSN Search Toolbar with Windows Desktop Search 2.5.1.1119
Microsoft Corp.

MSN Search Toolbar will help you search the Web from any site and easily find photos, emails, documents and more on your PC with Windows Desktop Search.
Other software in this category

Google Monitor 2.2.15.31
cleverstat

Free Monitor for Google is a free web promotion application that was designed for search engine specialists and webmasters.

ICLinx 3001 1.1.0
iCubator Labs, LLC

iCubator Labs presents ICLinx 3001 v.

etcetera: Popup Killer 2.44
Pkp Software

etcetera allows you to search the web directly from your browser bar and take control of popup windows.

Able Submitter 2.2
Security Resources Group

Able Submittter was designed to save time and help Webmasters in their site promotion process to search directories and engines.

Re-Search 1.10
Re-Search

Re-Search is a new search product that provides a wonderful way to search the Internet.