Email Verifier 3.6.4

Developer:
1-BULK-EMAIL-MAILING-ADDRESS-List.com
software by 1-BULK-EMAIL-MAILING-ADDRESS-List.com →
Price:
0.00
License:
Freeware
File size:
0K
Language:
OS:
Windows Vista

(?)

Rating:

0

/5 (0 votes)
Email Verifier is a very good email verifier
tags

email verifier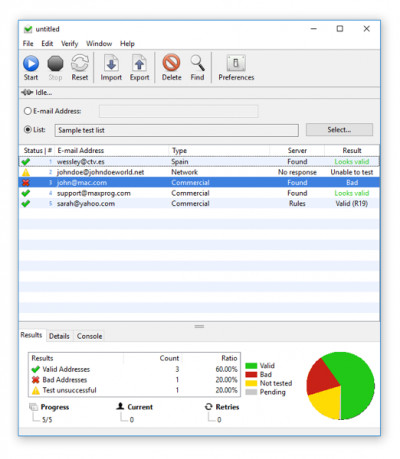 Download Email Verifier 3.6.4
Authors software

Email Verifier 3.6.4
1-BULK-EMAIL-MAILING-ADDRESS-List.com


Similar software

Email Verifier 3.6.4
1-BULK-EMAIL-MAILING-ADDRESS-List.com



Proxy Verifier 1.8
Cybertrion Systems

Proxy Verifier - is a small and pretty fast proxy verifier developed in Visual Basic.

Easy Credit Card Verifier 1.13
Ashkon Software LLC

Easy Credit Card Verifier software represents an instantly credit card numbers checker for validity using LUHN10 algorithm.

Credit Card Verifier 1.0
Pingram Marketing

Credit Card Verifier allows you instantly check all major credit cards number for validity without submitting the card number online.

USPS Address Verifier! 1.7
Howard Deiner



Mailbox Verifier 1.2
ElcomSoft Co Ltd

Mailbox Verifier (MV) is a small free software that will notify you about new messages arrived to your mailbox.

WebPlacementVerifier 1.0
Nsasoft llc

Web Placement Verifier is a freeware application that will allow you to check your website search engine placement for multiple keywords, to see if your site is in the first top pages of a search engine result for a specific keyword search.

K9 1.28
KeirNet

K9 is an email filtering application that will work in conjunction with most popular email programs that use the standard POP3 email protocol.

TigerTom Bulk Email Software 1.0
T. O Donnell Inc.

Bulk email client.

Email Avenger 1.0
Renegade Minds

Have you ever had your email server collapse? Have you ever not been able to access your email account? If you are like most people, you answered yes.
Other software in this category

E-Mail Remover 3.0
Sharewarist.com

Email Remover connects to your ISP and lists mail headers.

Clippy 1.2.0 Build 20616
Way Out There Software

With Clippy, you`ll be able to remove `>` characters and reformat the text in an e-mail with a single click of a button.

Wings II Email Stationery 1.0a
Cloudeight Internet

Wings II Email Stationery is a set of scrolling, musical email stationery featuring the beautiful bird art of award winning artist Adrian Rigby.

Active Email Monitor 2.F
VicMan Software

Active Email Monitor is an email utility that can check multiple accounts for email, but it can do so much more.

Outport 1.1.19
Outport

Outport is a program for exporting data from Outlook to various formats, including HTML, text, V-card, Rich Text, Outlook item and others.