EasyHtml 3.1.0

EasyHtml is a complete, 100% free HTML-editor.

Developer:
Toni Arts
software by Toni Arts →
Price:
0.00
License:
Freeware
File size:
0K
Language:
OS:
Windows Vista

(?)

Rating:

0

/5 (0 votes)
EasyHtml is a complete, 100% free HTML-editor. It is basically same as Window's memo, except EasyHtml has many useful features (thats why it is a popular HTML-editor)

Here are some key features of "EasyHtml ":

HTML-tags (< and >) are colorcoded, e.g. Welcome to my pages. Includes 10 ready highlighters for various languages! Fully customizable rules!

18 helpers, they make bug free HTML-code based on your answers. You can make e.g. table easily with them! Read more about helpers.

You can open as many HTML-document as you want to EasyHtml (MDI,multi-document-interface)!

Large help-file is shipped with EasyHtml, the help has information to amateur HTML-programmers as well as for professionals!

Very user friendly!

You can customize EasyHtml's enviroment.

Very fast. Read more about it.

With one key you can e.g. center a text! Read more about it.

Sample page is also shippedd with EasyHtml!

"Floating toolbars"!

Image map helper!

Built-in-browser, with it you can view your pages in milliseconds!

User's own tags!

You can make your own custom toolbars!

HTML-wizard which makes homepages in seconds!

13 ready JavaScripts (made by Nicolas) with instructions!

Download time checker, how many second you pages load with 28.8 modem?

Export your HTML to RTF, TXT or even to PDF!

Import to HTML from RTF or TXT!

And loads of other...

tags

you can read more more about with easyhtml can make html editor free html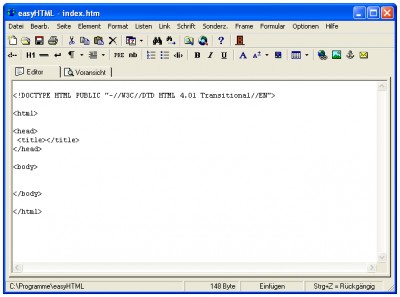 Download EasyHtml 3.1.0
Authors software

EasyCleaner 2.2
Toni Arts

EasyCleaner is a little application that was developed to search Windows' registry for entries that are pointing nowhere.

EasyComm 1.2.3.117
Toni Arts

EasyComm is an easy-to-use, powerful tool that lets you get more out of your MicroSoft Windows compatible Local Area Network (LAN).

EasyHtml 3.1.0
Toni Arts

EasyHtml is a complete, 100% free HTML-editor.

EasyThumb 1.2.4.80
Toni Arts

EasyThumb is a small program which makes thumbnails and converts images to different formats.

Synttari 1.3
Toni Arts


Similar software

EasyHtml 3.1.0
Toni Arts

EasyHtml is a complete, 100% free HTML-editor.

Lambda HTML Editor 1.0.4
Marc-André Lamothe

Lambda HTML Editor is a very simple and easy to use HTML editor.

phpEditorIDE 5.3.3
Ondrej Pokorny

phpEditorIDE is an efficient Web Editor for creating web pages in languages PHP, HTML, XML, CSS, JScript and VBScript - contains these translations: English, German, Czech Here are some key features of "phpEditorIDE": · highlight syntax of languages PHP, HTML, XML, CSS, JScript and VBScript · edit 100% adjustable user toolbars and menus · quickly insert of HTML tags, PHP functions etc.

CoffeeCup Free HTML Editor 15.4
CoffeeCup Software, Inc.

The CoffeeCup Free HTML Editor is a drag and drop HTML Editor with Built-in FTP uploading.

DominHTML 5.7
Domino Computing Services

DominHTML is an application lets you control your html editing process.

Dynamic HTML Editor Free 1.9
Lorenzi Davide

Dynamic HTML Editor is a powerful HTML (WEB page) Editor that permits you to create your site in a WYSIWYG (What You See Is What You Get) environment using both CSS or tabled layouts.

Html Page Maker 1.0
UKBR

Html Page Maker is a free html editor utility.

Smart Editor Professional 3.0
LogicMatrix Solutions

Smart Editor Professional is a FREEWARE Text, Hex, Programmers, HTML Editor.

CSE HTML Validator Lite 16.05
AI Internet Solutions

Clean up your site using CSE Lite! CSE HTML Validator Lite is an award winning FREE HTML editor and basic HTML syntax checker for Microsoft Windows 2, XP, Vista and above.

HTML Splitter 1.5
Rekenwonder Software

HTML Splitter is a free tool that allows you put large documents on the Internet (or into HTML format).
Other software in this category

MPS HTMLGate 12.2.0
mpsoftware

Advanced coding features with syntax support enables you to quickly and instantly create, edit and publish HTML 4, XHTML 2, JavaScript 1.

Matrix Y2K 7.1
WTM Software.nl

Matrix Y2K is a code based HTML editor for novice and advanced users.

Web-Edit 2002 1.0.5
Colin Harman

Web-Edit 2002 is a simple, MDI enhanced HTML Editor, with syntax coloring and several wizard-style features for creating tables, inserting images and frames.

Matrix Y2K 2005 SE
M.A. van IJperen

Matrix Y2K is a code based HTML editing application that can be used by both novice and advanced users.

Alleycode HTML Editor 2.21
Konae Technologies, Inc

Alleycode HTML is an intuitive, robust and fully functional HTML editor.