DropUpLoad 1.82

Developer:
Zapman
software by Zapman →
Price:
0.00
License:
Freeware
File size:
0K
Language:
OS:
Windows XP/Vista

(?)

Rating:

0

/5 (0 votes)
tags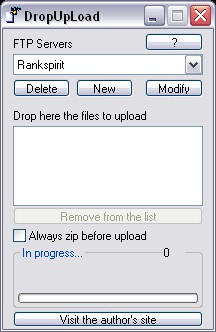 Download DropUpLoad 1.82
Authors software

DropUpLoad 1.82
Zapman



LinkSpirit 1.27
Zapman

PageRank of your pages is one of the main factor that decide of their positions in the results of search engines.
Similar software
Other software in this category

Cesar FTP 0.99g
Alexandre Cesari

CesarFTP is an easy-to-use and fast to configure FTP server.

GuildFTPd 0.999.14
GuildFTPd

GuildFTPd is a very good free FTP server with all the necessary features.

TYPSoft FTP Server 1.10
TYPSoft



Quick 'n Easy FTP Server Lite 3.1
Pablo Software Solutions



DropUpLoad 1.82
Zapman