AddrView 1.01

AddrView enables you to parse HTML pages and extract most URL addresses stored in them.

Developer:
Nir Sofer
software by Nir Sofer →
Price:
0.00
License:
Freeware
File size:
0K
Language:
OS:
Windows Vista

(?)

Rating:

0

/5 (0 votes)
AddrView enables you to parse HTML pages and extract most URL addresses stored in them.

AddrView extracts URLs of images ( tag), links to other files ( tag), CSS files, frames, Flash files, and more.

You can save the extracted addresses list to text, HTML or XML files, or add these addresses to your Favorities.
tags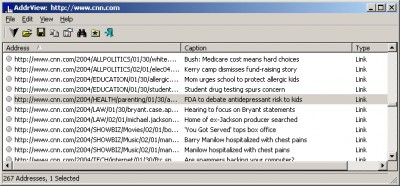 Download AddrView 1.01
Authors software

Mail PassView 1.86
Nir Sofer

The Mail PassView utility displays the details of email accounts of the following email applications: Mail PassView is a small password-recovery program which shows the passwords and other account details for the following email client software: · Outlook Express · Microsoft Outlook 2 (POP3 and SMTP Accounts only) · Microsoft Outlook 2002/2003 (POP3, IMAP, HTTP and SMTP Accounts) · IncrediMail · Eudora · Netscape 6.

Protected Storage PassView 1.63
Nir Sofer

Protected Storage PassView is a small application that reveals the passwords stored on your computer by Internet Explorer, Outlook Express and MSN Explorer.

Dialupass 3.61
Nir Sofer

Dialupass enumerates all Dial-Up entries on your computer, revealing their login details, including User Name, Password and Domain.

WinUpdatesList 1.33
Nir Sofer

WinUpdatesList will display the list of all Windows updates (Service Packs and Hotfixes) installed on your local computer.

CurrPorts 1.11
Nir Sofer

CurrPorts will display the list of all currently opened TCP/IP and UDP ports on your PC.
Similar software

AddrView 1.01
Nir Sofer

AddrView enables you to parse HTML pages and extract most URL addresses stored in them.

Url Generator 3.2
Charles P. White

Url Generator is an application that was develoepd to extract URL Links (Hyper Links) from HTML files.

XSite 1.1.0.0
Veign

XSite will load and parse any webpage into a simple structured view for displaying images, email addresses, and all links.

Help Creator 1.0.0.56
Breit Technologies

Help Creator is a free software that will allow you to create Windows Help (.

Link Encoder 1.0
Igor Tolmachev

Link Encoder enables you to encode your email and other links on your website so they can't be extracted by rogue internet spiders looking for email addresses to add to junk mailing lists.

CDVista 1.46a
Luc DI FELICE

If you use many removable disks such as cdroms, you know that it is sometimes very difficult to find a file among all these drives.

Npust Email List Manager 1.02
NPUST SOFTWARE

Npust Email List Manager is a high performance list management application that allows you to manage your email lists faster and easier than ever before.

Links Extractor 1.2
Aleksei Taranov

Links Extractor - Search and extract links (URL or Email) from pages or files.

Dnn Email Extractor 1.0
Svein Erik Storkås

Save email addresses from you DotNetNuke site as a text file.

MailList Validator 2.0
Business Software Products

MailList Validator was designed to help you validate e-mail addresses and see whether or not certain addresses exist.
Other software in this category

MultiSearchPRO 1.0.0 Beta
Yonatan Matalon

MultiSearchPRO enables you to search for web pages from several search engines simultaneously quickly and easily.

RomPhone 2000 2.1
Anunt Online

RomPhone 2000 is a aplication used to find online telephone numbers and addresses of the romanian people.

2002 FIFA World Cup Informer 1.9
A.I.Studio

2002 FIFA World Cup Informer will keep you informed of all FIFA World Cup events.

FirstStop WebSearch Standard Edition 5.0b
FirstStop WebSearch LLC

FirstStop WebSearch Standard Edition is incredibly fast desktop application which can searches multiple search engines and web sites simultaneously for a more comprehensive Internet experience.

Help me find site 0.9.2003
Softexe.com, CIT AdaSoft

This utility helps to find new sites all over the world.