1-Click Answers 2.4.0

Answers.

Developer:
Answers Corporation
software by Answers Corporation →
Price:
0.00
License:
Freeware
File size:
0K
Language:
OS:
Windows Vista

(?)

Rating:

0

/5 (0 votes)
Answers.com is a revolutionary Answer Engine: a one-click reference library on demand.

With 1-Click Answers software, just Alt-click on any word in any Windows application (e-mail, browser, Office, and so on), and get a quick definition or explanation--instant answers from encyclopedias, biographies, celebrities, companies, news, sports, weather, stock prices, maps, military terms, idioms, tech terms, acronyms.

1-Click Answers is a software that brings answers on your desktop.

Unlike search engines that show you long lists of links to follow one-by-one, Answers.com brings you organized information from over 100 content sources in a simple pop-up window, without interrupting your work. Also included is our IE toolbar for Web-only version. Mac version available as a separate download.


Requirements
IE installed but does not need to be used
tags

click answers answers com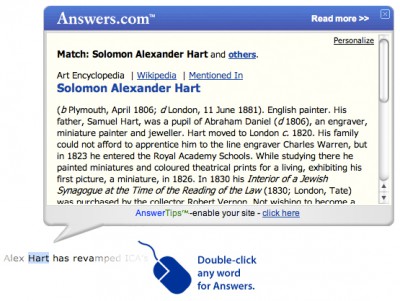 Download 1-Click Answers 2.4.0

Download 1-Click Answers 2.4.0

Authors software

1-Click Answers 2.4.0
Answers Corporation

Answers.
Similar software

1-Click Answers 2.4.0
Answers Corporation

Answers.

JiveQ 3.2.2
TMA Software

Use JiveQ to easily s earch the web from any application using the word or phrase under the cursor.

Questions and Answers 3.161
Arch Technologies

Questions & Answers is a easy to use software for creating multiple choice quiz's and playing those quiz's.

Melensoft Trainer 2.0
Melensoft

Melensoft Trainer is a useful flashcard application that can help you learn foreign language.

Sight Words Buddy 1.0
Sierra Vista Software

Sight Words Buddy for Windows was made to provide children with fun and easy Sight Words exercises.

Lycos iQ Toolbar 1.0
Lycos UK

Lycos iQ is a free toolbar that allows you to ask other users on Lycos iQ for answers to a question you have whilst away from the site.

BetterSearch 1.8.7
Carlo Zottmann

BetterSearch: An extension for Firefox which enhances Google (all international flavours, too), MSN Search, Yahoo Search, A9, Answers.

FAQGenie 1.3.1
Virdi Software

FAQGenie is an useful utility that takes the hassle out of writing and maintaining a FAQ on a website.
Investorworm Financial Toolbar 2.9
Investorworm.com

With the investorworm financial toolbar you never need to search for stock tools again Features: · Eliminate pop-up ads with our Free Popup blocker (included!) · Search the web with Investorworm from any web site · Search terms you type in all major search engines preload in our search box.

AudiFlash 1.0 Beta
Mikko Hollmén Olesen

AudiFlash is a freeware application that was designed to help you create and use auditory flash cards.
Other software in this category

Google Monitor 2.2.15.31
cleverstat

Free Monitor for Google is a free web promotion application that was designed for search engine specialists and webmasters.

ICLinx 3001 1.1.0
iCubator Labs, LLC

iCubator Labs presents ICLinx 3001 v.

etcetera: Popup Killer 2.44
Pkp Software

etcetera allows you to search the web directly from your browser bar and take control of popup windows.

Able Submitter 2.2
Security Resources Group

Able Submittter was designed to save time and help Webmasters in their site promotion process to search directories and engines.

Re-Search 1.10
Re-Search

Re-Search is a new search product that provides a wonderful way to search the Internet.