WSQ viewer 4.1

Free WSQ viewer/converter.

Developer:
Cognaxon
software by Cognaxon →
Price:
0.00
License:
Freeware
File size:
0K
Language:
OS:
Windows Vista

(?)

Rating:

0

/5 (0 votes)
Free WSQ viewer/converter. Version 2.0.
Cognaxon WSQ viewer reads and converts between WSQ and 31 other graphic file formats.

Supported formats for reading:
WSQ, TIFF, BMP, TIF, JPEG, JPG, JPE, PNG, GIF, PSP, JFIF, RLE, DIB, TGA,WIN,VST,VDA,ICB, FAX, EPS, PCX, PCC, SCR, RPF, RLA, SGI, RGBA, RGB, BW, PSD, PDD, PPM, PGM, PBM, CEL, PIC, PCD, CUT, IFF, ICO, WMF, EMF

Supported formats for writing:
WSQ, BMP, TIFF, PNG, JPEG, RGB, TGA

WSQ viewer is small (less than 1 Megabyte) and fast, has image zoom toolbar and supports accelerated navigation through files in the directory using keys page up / page down / home / end . After installation of WSQ viewer *.wsq files can be easily opened in Windows Explorer with simple mouse double click.

WSQ viewer is the demo version of WSQ (FBI's Wavelet Scalar Quantization) library add-on available as SDK for software developers.
tags

wsq viewer formats for supported formats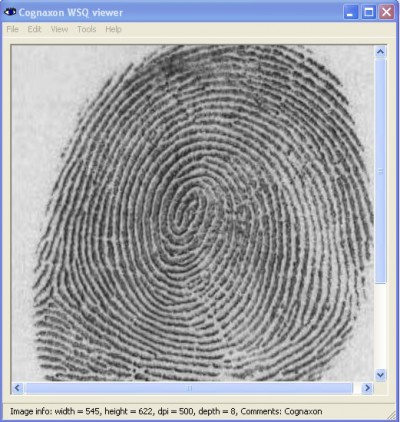 Download WSQ viewer 4.1
Authors software

Snake Eye Vision 1.0
Cognaxon

Some animals, like for example many species of snakes, have poor eyesight, however their eyes are still best at detecting movement.

Two Channels Frequency Generator 1.0
Cognaxon

Two Channels Frequency Generator allows independent control of frequency, phase and volume on left and right channels.

WSQ viewer 4.1
Cognaxon

Free WSQ viewer/converter.
Similar software

WSQ viewer 4.1
Cognaxon

Free WSQ viewer/converter.
Imagistik Image Viewer 2.0
Informatik Inc

Imagistik Image Viewer is a free and useful TIFF viewer utility.

JPEG Viewer 0.12
HMK Research

JPEG Viewer is a free and useful image viewer and editor.

Universal Viewer (ATViewer) 1.5.10.0
Alexey Torgashin

Universal Viewer is an advanced file viewer which supports a wide range of file formats: · Text/Binary/Hex/Unicode: all files, with unlimited file size (even 4Gb+ sizes are allowed); · RTF/UTF-8: RTF and UTF-8 encoded texts; · Image: all general graphics formats: BMP JPG GIF PNG TGA TIFF etc; · Multimedia: all formats supported by MS Window Media Player: AVI MPG WMV MP3 MIDI etc; · Internet: all formats supported by MS Internet Explorer: HTML XML DOC XLS etc; · Plugins: all formats supported by Total Commander Lister plugins.

Photo Gadget Viewer 2.0
XemiComputers

Photo Gadget Viewer is a Windows software for browsing through digital images.

Free RAW Viewer 1.00
http://www.difiapro.com

Free RAW Viewer is a simple and easy to use image viewer with a built-in slideshow viewer.

i-Fun Viewer 8.0
Xequte Software

i-Fun Viewer is fast, image viewer with support for all common image formats.

Image Eye 9.1
FMJ-Software

Image Eye is a quite specialized image viewer - specialized i.

Tubeesview 1.0.7
Alex Nguyen

Tubeesview is an image viewer freeware that supports popular image file formats, such as: BMP, GIF, LBM, MSP, GIF, JPEG, PBM/PGM/PPM, PCX, PCD, PCT, PSP, RLE, SGI, TGA, TIFF, etc.

Picture Viewer 1.0
Scalabium Software

Picture Viewer gives you a simple viewer for the most common image formats.
Other software in this category

PhotoCDBrowser 2.96a
M. Onyshchuk

PhotoCDBrowser is an application used to create and view your archives in TIFF, JPEG, PCX, TGA, EPS formats.

SlowView v1.0 RC2 Updated
Nikolaus Brennig

SlowView is a free multimedia viewer.

Pawbrowse 1.1 beta 2
Pawsoft

Pawbrowse is an advanced picture browsing and viewing software.

Visualizer Image Browser 2.3
Darren Wilden

Visualizer is the Smart looking image browser with which you can import desktop screen shots, edit and optimize images, save as HTML documents, save as BMP or JPG, add effects or browse through 20 different types of images.

PhotoView 1.00
SoftBoard

PhotoView is a compact and easy tool for viewing pictures.