Image Eye 9.1

Image Eye is a quite specialized image viewer - specialized i.

Developer:
FMJ-Software
software by FMJ-Software →
Price:
0.00
License:
Freeware
File size:
0K
Language:
OS:
Windows Vista

(?)

Rating:

0

/5 (0 votes)
Image Eye is a quite specialized image viewer - specialized i.e. for the sole purpose of viewing images as quickly and as practically as possible - and nothing else!

You don't get any menus, tool bars or other fancy - but sometimes very anoying - things cluttering up the window where you want to see a picture an nothing else!

In fact, if you want you can even have the window title bar dissapear when you don't need it, leaving just the image itself!

And there are many handy and practical user interface 'tricks'; e.g. hitting Ctrl-Alt-X to close all image windows - just to mention one!


Image Eye features
Reads many file formats: BBM, BMP, CAL, CALS, CUR, DDS, DIB, FIF, FIT, FITS, GIF, ICO, IFF, JFIF, JPG, JPEG, LBM, MAC, NEO, PBM, PCX, PGM, PIC, PNG, PPM, PSD, RAS, RAW, RLE, SUN, TGA, TIF, TIFF.

You can select exactly what file formats to be associated with the program.

Both types of 'prgressive JPEG' files are supported.

Animated GIFs are supported.

Multi-page TIFFs are supported.

'Raw' image file can also be read.

High quality color palette optimization when displaying 256, 16, 4 or 2 color video modes.

Floyd-Steinberg dithering supported for much improved visual quality when viewing 24-bit images in only 256 color or lower video modes and in 15 and 16-bit video modes.

High-quality 4x4 pixel resampling filter used when resizing images.

MMX instruction set support for improved speed.

Small executable size.

Available in several languages & can easily be translated into more!


Limitations
nag screen.

tags

are supported video modes file formats high quality you can you want nothing else you don the window image eye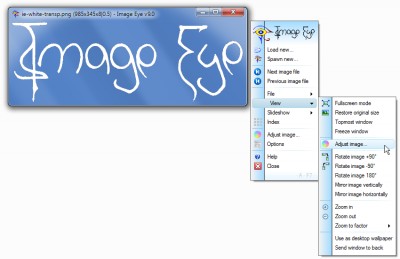 Download Image Eye 9.1
Authors software

Image Eye 9.1
FMJ-Software

Image Eye is a quite specialized image viewer - specialized i.
Similar software

Image Eye 9.1
FMJ-Software

Image Eye is a quite specialized image viewer - specialized i.

MyViewPad 3.5.0
fCoder Group, Inc.

MyViewPad is the best free viewer of digital graphics.

NewView Graphics' File Viewer 7.3
NewView Graphics

NewView Graphics' File Viewer will browse your system and display, print, and manage images in a wide variety of popular formats.

Fresh View 7.15
Freshdevices

Fresh View gives you the ability to organize and view multimedia files (images, audio, video).

David's Image Viewer 2.2.2.17
David J Taylor

Image Viewer is a simple image viewer for Windows with high quality display of images even on 256-, 32K and 64K-colour adapters.

Image Comparer 1.0
Innoware

Image Comparer is a .

Viewing Booth Pro 1.0
Jetsoft

The Viewing Booth is a free and useful low cost image editor which will let you manipulate saved images to fix blemishes or other discrepancies in the image.

MS RAW Image Thumbnailer and Viewer Powertoy 1.0
Microsoft Corp.

The Microsoft RAW Image Thumbnailer and Viewer is a free "PowerToy" for Microsoft Windows XP that provides the ability to view, organize, and print photos captured in RAW image formats from supported Canon and Nikon digital cameras.

SmartMorph 1.55
Michael Vinther

SmartMorph is developed as a fast, advanced morphing application.
Imagistik Image Viewer 2.0
Informatik Inc

Imagistik Image Viewer is a free and useful TIFF viewer utility.
Other software in this category

PhotoCDBrowser 2.96a
M. Onyshchuk

PhotoCDBrowser is an application used to create and view your archives in TIFF, JPEG, PCX, TGA, EPS formats.

SlowView v1.0 RC2 Updated
Nikolaus Brennig

SlowView is a free multimedia viewer.

Pawbrowse 1.1 beta 2
Pawsoft

Pawbrowse is an advanced picture browsing and viewing software.

Visualizer Image Browser 2.3
Darren Wilden

Visualizer is the Smart looking image browser with which you can import desktop screen shots, edit and optimize images, save as HTML documents, save as BMP or JPG, add effects or browse through 20 different types of images.

PhotoView 1.00
SoftBoard

PhotoView is a compact and easy tool for viewing pictures.