MyViewPad 3.5.0

MyViewPad is the best free viewer of digital graphics.

Developer:
fCoder Group, Inc.
software by fCoder Group, Inc. →
Price:
0.00
License:
Freeware
File size:
0K
Language:
OS:
Windows Vista

(?)

Rating:

0

/5 (0 votes)
MyViewPad is the best free viewer of digital graphics. Over several years of working on a graphics engine our company created a truly stable, quality product.

It is likely that MyViewPad uses the best digital graphics engine that is available on the market. Judge for yourself.

If you haven't noticed anything special, we reached our goal. That means that the program is doing what it is supposed to do - it is showing images.

MyViewPad can view large images; it can show thousands of images in a row; it can view files with errors and nonstandard formatting, as well as multi-page and animated files.

All of this was tested over and over. We have a huge collection of various digital graphic files that could not be viewed by other programs.

These different files came from our customers and were collected over many years. Each such file presented a real challenge for people and that's why we ended up with files that no one could view anywhere else.

Of course, you could have a file like that yourself. In this modern age of digital information it's impossible to avoid minor troubles.

To keep up with progress means not only updating your anti-virus database. Our tests show that other popular viewers can't view even a half of our file collection. However, we can! And we are happy to tell you about it.


MyViewPad features
a large number of both vector and raster graphics formats is supported. The program can read about 80 formats and write to about 25 formats. The original engine ensures deep and high quality support for common as well as relatively rare image formats.

images can be received from scanners and cameras (via TWAIN interface),

batch image scanning is also supported.

MyViewPad can be used as a standalone application as well as Total Commander file browser plugin

the program is disctributed as freeware

convenient user interface. Users may select either the original program window skin or the classic Windows application skin

navigating graphics files is traditionally convenient.

image preview is enabled when navigating and opening files.

drag & drop operation is supported when opening images for viewing

images can be viewed in fullscreen mode

slide show mode with wide range of settings is supported

animation and frame-by-frame display mode are supported

EXIF and IPTC information can be viewed from formats supporting EXIF and IPTC

when viewing images, transparency of alpha-channels is taken into account.

RAW images are fully supported, preview option included.

tools for image color correction - brightness, contrast, levels, bar graph, blur, sharpen, matrix filters, etc.

color correction preview with UNDO option.

quality image resampling (4 filtration modes)

mirror, right and arbitary angle image rotation with interpolation

changing image color depth

multipage images are fully supported including reading, conversion, transformation, saving of multipage images

inbuilt color profile of the image is taken into account when the image is being loaded (off by default)

transparency and alpha-channels are taken into account when working with files

Multi-threading for optimum performance

MMX/SSE/SSE2 optimizations for high speed image transformations

tags

the program into account taken into are fully images are fully supported color correction account when the image multipage images alpha channels image color exif and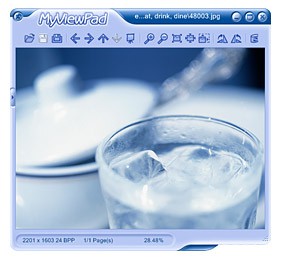 Download MyViewPad 3.5.0
Authors software

MyViewPad 3.5.0
fCoder Group, Inc.

MyViewPad is the best free viewer of digital graphics.
Similar software

MyViewPad 3.5.0
fCoder Group, Inc.

MyViewPad is the best free viewer of digital graphics.

Image Eye 9.1
FMJ-Software

Image Eye is a quite specialized image viewer - specialized i.

NewView Graphics' File Viewer 7.3
NewView Graphics

NewView Graphics' File Viewer will browse your system and display, print, and manage images in a wide variety of popular formats.

Show 4.00.40
MW Graphics

Show is a general purpose Image viewing and converting program.

MS RAW Image Thumbnailer and Viewer Powertoy 1.0
Microsoft Corp.

The Microsoft RAW Image Thumbnailer and Viewer is a free "PowerToy" for Microsoft Windows XP that provides the ability to view, organize, and print photos captured in RAW image formats from supported Canon and Nikon digital cameras.

Digital Image Viewer 1.1
Specialty Software

Digital Image Viewer is a very useful image utility that allows you to edit , manage and view images.

Image Comparer 1.0
Innoware

Image Comparer is a .

DIMIN Image Viewer n5 5.2.1.111
DIMIN

DIMIN Image Viewer n5 is a free and useful image utility that lets you to view images in countless formats, and apply a variety of effects with this powerful , small and fast application.


IrfanView 4.57
Irfan Skiljan

IrfanView is a fast and simple image viewer and editor that supports all major graphic formats, including BMP, DIB, JPEG, GIF, animated GIF, PNG, PCX, multipage TIFF, TGA, and more.

i-Fun Viewer 8.0
Xequte Software

i-Fun Viewer is fast, image viewer with support for all common image formats.
Other software in this category

PhotoCDBrowser 2.96a
M. Onyshchuk

PhotoCDBrowser is an application used to create and view your archives in TIFF, JPEG, PCX, TGA, EPS formats.

SlowView v1.0 RC2 Updated
Nikolaus Brennig

SlowView is a free multimedia viewer.

Pawbrowse 1.1 beta 2
Pawsoft

Pawbrowse is an advanced picture browsing and viewing software.

Visualizer Image Browser 2.3
Darren Wilden

Visualizer is the Smart looking image browser with which you can import desktop screen shots, edit and optimize images, save as HTML documents, save as BMP or JPG, add effects or browse through 20 different types of images.

PhotoView 1.00
SoftBoard

PhotoView is a compact and easy tool for viewing pictures.