VidShot Capturer 1.0.72

VidShot Capturer created for quick screen capturing.

Developer:
Geovid
software by Geovid →
Price:
0.00
License:
Freeware
File size:
0K
Language:
OS:
Windows XP/Vista

(?)

Rating:

0

/5 (0 votes)
VidShot Capturer created for quick screen capturing. You can use VidShot Capturer for capturing anything you see on your PC desktop and record them to video. You can capture windows, region, the entire desktop and even cursor moving.

VidShot Capturer helps you for demonstrating features of your website, for making movie, presentation and any other task requires desktop activity capturing. It is very easy and fast for to use. You just select windows or region or desktop and pull "start" button.VidShot Capturer is a software that allows you capture screen and record to video.

More other VidShot Capturer allows to adjust the framesof the video. It has easy to use interface that's why if you even new to making screen captures you can manage it.


VidShot Capturer features
Capture Video from desktop

Capture video from Window

Capture wideo from region of your desktop

Automatic Video options

Frame Rate advaned settings

Easy and nice interface

tags

vidshot capturer desktop and you can video from capture video and record easy and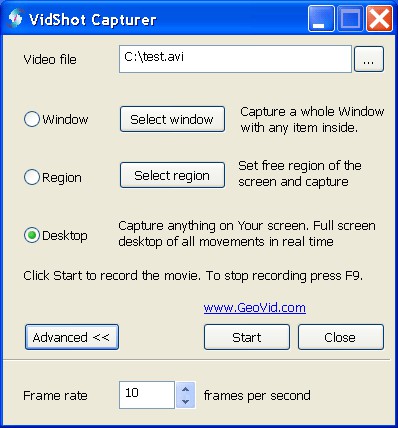 Download VidShot Capturer 1.0.72

Download VidShot Capturer 1.0.72

Authors software

Video MP3 Extractor 1.6
Geovid

Video MP3 Extractor is an application that allows you to extract the audio from a video file, and saves it in mp3 format Video mp3 Extractor is easy to use tool to extract audio from Video AVI, ASF, WMV files.

VidSplitter 2.6.23
Geovid

VidSplitter splits large video files.

VidShot Capturer 1.0.72
Geovid

VidShot Capturer created for quick screen capturing.

Flash Player 2.3
GeoVid

Do you need Flash Standalone player? You can view Flash movies in WebBrowser, but if you want to run downloaded flash SWF or FLV video at another time without IE? Use Geovid Flash Player.
Similar software

VidShot Capturer 1.0.72
Geovid

VidShot Capturer created for quick screen capturing.

STOIK Capturer 1.0
STOIK Imaging

STOIK Capturer will allow users to capture video from DV camcorder through IEEE 1394 FireWire interface or any analog video source such as video card, TV tuner card, webcam etc.

Evan's AVI Screen Capture 0.2.0.0
Evan

Evan's AVI Screen Capture will allow you to capture your desktop or certain windows within your desktop to AVI video files.

AviAcreen 1.3
Bobyte Software

AviScreen is an application for capturing screen activity in the form of AVI video or bitmap images.

Desktop Grabber 1.0
Dna.ware

Desktop Grabber is a desktop capturing application.

U-Broadcast 1.55
Uticasoft

U-Broadcast is a webcam viewer, TV-tuner viewer, video capturer, live-stream server application Introduction U-Broadcast has 3 primary modes, which can be set from the File menu.

Fast Screen Capture 1.0
Aleksei Taranov



Softoria Capture 1.0
Ahmed Elragi

Softoria Capture is a quick-and-easy screen capture utility for Windows, which allows you to capture the entire screen, at any color depth and resolution.

VH Screen Capture Driver 2.2.5
Hmelyoff Labs

VH Screen Capture Driver is a DirectShow filter, which emulate Video Capture card and captures screen activity.

Virtual VCR 2.6.9
Shaun

Virtual VCR is a video capture software that has different useful options for all types of video capture tasks.
Other software in this category

!Glance 2.30
BlackSoftware

!Glance allows you to capture selected screen regions, windows, menu, buttons, toolbars or video frames and save them as BMP, GIF, or JPEG files.

Capture 1.1
Bernt Levinsson's

Capture is a small utility to capture areas from your screen.

MWSnap 3.00.0.74
Mirek Wojtowicz

MWSnap is a small but powerful Windows application for snapping (capturing) pictures from selected parts of the screen.

Ace WINScreen 4.5
Caltrox Software Systems

Ace WINScreen is the very popular, leading quality software of choice to Capture the Screen, Print & Save for the Personal Computer.

Turbosnap 3.0
Relaxing Software

Turbosnap is a powerful, yet easy to use screen capture utility.