PictureViewer .EXE 1.1.227

PictureViewer .

Developer:
SoftTech InterCorp
software by SoftTech InterCorp →
Price:
0.00
License:
Freeware
File size:
0K
Language:
OS:
Windows Vista

(?)

Rating:

0

/5 (0 votes)
PictureViewer .EXE - it has never been easier to view images and pictures on your computer whether your images come from the internet, digital cameras, photo galleries or scanners. PictureViewer .EXE is a useful utility that lets you to produce slideshows and presentations.

Create and run slideshow presentations, browse folders and directories, build dynamic playlists, skim thumbnails, organize files, change wallpaper, convert, rotate, resize, zoom and print images. With support for over 20 file types, PictureViewer .EXE is your solution for anything from professional presentations to idle image browsing.


PictureViewer .EXE supports a comprehensive spectrum of image formats, (including jpg, jpeg, gif, bmp, ico, png, tif, tiff, dcx, dib, jif, ljp, pbm, pcx, pgm, pic, epic, ppm, tga, wmf, wpg), providing unrivaled accessibility and flexibility. The integrated MediaView component seamlessly allows you to view images in the right-click menu of the Microsoft Windows® shell.


For uncomplicated image viewing, PictureViewer .EXE provides a comprehensive slideshow utility supporting auto-play, custom time intervals, forward, reverse and random play orders. With fullscreen navigation controls displaying fullscreen slideshows is easy as a single mouse-click, making PictureViewer .EXE ideal for presentations.

To manage and create custom presentations, enque individual images, single folders or complete directories and sub-directories into the dynamic playlist editor. Use the integrated file browser to navigate easily through your image files, viewing directories, folders, custom playlists or thumbnail images.
Image editing and management features allow you to rotate, resize, print, delete, copy and rename your image files quickly and efficiently. Use the file information editor to easily store and retrieve image descriptions on your computer.

When browsing for images, displaying family photographs or making multimedia presentations, SoftTech InterCorp's PictureViewer .EXE provides access to powerful image management tools that make it an unparalleled resource for your imaging needs.

Here are some key features of "PictureViewer 1":

Multiple Image Format Support .

Slideshow - Forward, Reverse, Random.

Fullscreen Viewing .

Filmstrip/Thumbnail Panel .

Playlist Creation and Editor.

Send Images via E-mail

Printing Feature with Layout Control

Detailed Image Information

Basic Image Editing Features

Microsfot Windows Shell Intergration

tags

pictureviewer exe use the your image image files image editing forward reverse exe provides view images your computer rotate resize the integrated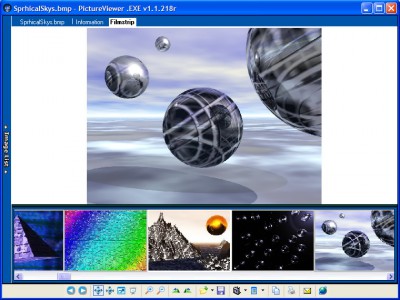 Download PictureViewer .EXE 1.1.227

Download PictureViewer .EXE 1.1.227

Authors software

Image Converter .EXE 2.0.82
SoftTech InterCorp

Image Converter .

PictureViewer .EXE 1.1.227
SoftTech InterCorp

PictureViewer .
Similar software

PictureViewer .EXE 1.1.227
SoftTech InterCorp

PictureViewer .

i-Fun Viewer 8.0
Xequte Software

i-Fun Viewer is fast, image viewer with support for all common image formats.

Image Navigator 3.2
VIMAS Technologies

Image Navigator is a useful application that allows you to efficiently browse and organize images on your computer and manage Web Photo Albums.

PictureViewer ASP 1.0
Vivid Designs

PictureViewer ASP is a fully functional website picture gallery written in ASP using an XML file for the image list.

PhotoEdit 1.3.2
Xue Heng

PhotoEdit is a powerful photo editor, its source code is available, it can read, write, and manipulate an image in many image formats (over 38 major formats) including popular formats like TIFF, JPEG, PNG, PCD, PIC, PSD, and GIF.

Babya Photo Workshop 11.0.1
Babya Software Group

Babya Photo Workshop Professional is a free and professional image editor.

Digital Image Viewer 1.1
Specialty Software

Digital Image Viewer is a very useful image utility that allows you to edit , manage and view images.

Viewing Booth Pro 1.0
Jetsoft

The Viewing Booth is a free and useful low cost image editor which will let you manipulate saved images to fix blemishes or other discrepancies in the image.

ThumbView 4.00.21
MW Graphics

ThumbView - view directories of thumbnail images.

Show 4.00.40
MW Graphics

Show is a general purpose Image viewing and converting program.
Other software in this category

PhotoCDBrowser 2.96a
M. Onyshchuk

PhotoCDBrowser is an application used to create and view your archives in TIFF, JPEG, PCX, TGA, EPS formats.

SlowView v1.0 RC2 Updated
Nikolaus Brennig

SlowView is a free multimedia viewer.

Pawbrowse 1.1 beta 2
Pawsoft

Pawbrowse is an advanced picture browsing and viewing software.

Visualizer Image Browser 2.3
Darren Wilden

Visualizer is the Smart looking image browser with which you can import desktop screen shots, edit and optimize images, save as HTML documents, save as BMP or JPG, add effects or browse through 20 different types of images.

PhotoView 1.00
SoftBoard

PhotoView is a compact and easy tool for viewing pictures.