Image Converter .EXE 2.0.82

Image Converter .

Developer:
SoftTech InterCorp
software by SoftTech InterCorp →
Price:
0.00
License:
Freeware
File size:
0K
Language:
OS:
Windows Vista

(?)

Rating:

0

/5 (0 votes)
Image Converter .EXE is a flexible and fast image conversion program, that provides support for converting to over 15 formats. It features over 20 effects which can be applied in any conversion process, and even in batch mode.

The included Image Conversion Wizard helps with a step-by-step dialog that allows you to select files, set conversion properties (JPG to BMP), apply effects, and set how the converted files will be named.

Batch support in Image Converter .EXE allows you to easily add thousands of images to be converted, and with a single click Image Converter .EXE can then convert, rename and add effects in accordance with your settings.

To make the process simpler, Image Converter .EXE includes the MediaView Extension from SoftTech InterCorp, form which converting between image types and apply effects can be done by simply right-clicking them. Convert and Rotate 120 selected files right from Windows Explorer.

Image Converter .EXE supports writing to the following formats: JPG, GIF, PIC, TIF, BMP, DCX, DIB, JIF, PBM, PCX, PGM, PNG, PPM, TGA and WPG. Supported effects which can be processed in batch mode include: Adjust HSL, Adjust RGB, Blend, Brightness, Buttonize, Color Depth, Contrast, Crop, Draw Text, Motion Blur, Mosaic, Perspective, Pinch, Posterize, Resample, Resize, Ripple, Rotate, Sharpen, Soften, Solarize, Swirl, Auto Contrast, Blur, Diffuse, Dilate, Emboss, Equalize, Erode, Flip, Median, Mirror, Negate, Outline, Replace Colors, Colorize, Merge. Well Image Converter

.EXE supports conversion to any of the 15 supported formats, here are a few of the common types to convert: BMP to JPG, BMP to GIF, BMP to PNG, BMP to TIF, TIF to BMP, TIF to JPG, TIF to GIF, JPG to GIF, GIF to JPG, PIC to JPG, DCX to JPG, DIB to JPG, JIF to JPG, PBM to JPG, PCX to JPG, PGM to JPG, PPM to JPG, TGA to JPG, and WPG to JPG.

Here are some key features of "Image Converter EXE":

Allows easy and fast conversion of images.

Batch conversion options.

Dual 'compare input to output' interface.

Supports all 15 major image formats.

Over 20 imaging effects.

Powerful 'conversion' Wizard

Microsoft Windows Shell Intergration

tags

image converter converter exe exe allows apply effects and wpg here are allows you exe supports batch mode and fast image conversion effects which which can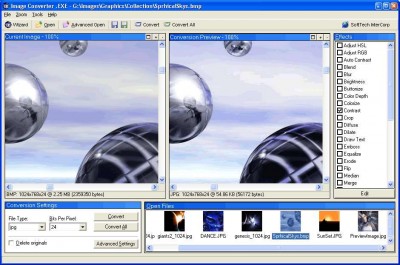 Download Image Converter .EXE 2.0.82

Download Image Converter .EXE 2.0.82

Authors software

Image Converter .EXE 2.0.82
SoftTech InterCorp

Image Converter .

PictureViewer .EXE 1.1.227
SoftTech InterCorp

PictureViewer .
Similar software

Image Converter .EXE 2.0.82
SoftTech InterCorp

Image Converter .

ABC Amber PaintShop Converter 1.03
ProcessText Group

ABC Amber PaintShop Converter is an advanced software to convert your PSP (PaintShop) files to any graphics format you wish (BMP, EMF, WMF, ICO, JPG, GIF, PNG, PCX, TIFF, PCC, PGM, DCX, PBM, PPM, TGA, etc).

PC Image Editor 3.60
Program4Pc Inc.

PC Image Editor is a free graphics editor that has many features of a professional product.

APlus Viewwer 2.19
APlus Viewer Development Group

APlus Viewer, also called A+ Viewer, meas we want to make it be the best freeware of image browser.

ABC Amber EPS Converter 1.03
ProcessText Group

ABC Amber EPS Converter is an application that will convert your EPS (Encapsulated Postscript) files to any image format (BMP, WMF, EMF, ICO, JPG, GIF, PNG, TIFF, PCX, PCC, DCX, PBM, PGM, PPM, TGA, etc).

MAX Image Converter 1.0
Igor P. Zenkov

MAX Image Converter will help you export from and create 'max' image format files as well as convert various image files from one format to another.

FastStone Photo Resizer 2.4
Faststone Soft

FastStone Photo Resizer is an image converter / resizer intended to enable users to convert, resize, rename, rotate, crop, change color depth, add text and watermarks to images in a quick and easy batch mode.

PalMerge 3.00d
BMiller Computing

PalMerge is an application designed to convert graphic file formats and has many special effects.

Maximum Traffic Image Converter 1.0
Sustained Hits Intl. Tech

With this image converter you can adjust colors, file type and a wide range of options to make any image fit your every need.

Free iPod Video Converter 3.0
Jodix Technologies Ltd

Free iPod Video Converter is a free and useful application which provides an easy and completed way to convert all popular video formats to iPod video.
Other software in this category

DigiBookShelf 2005 11.1.9.9
TriWorks Corp. JAPAN

Display and manage your images in a virtual album that lets you browse the images by flipping the pages.

ThumbWizard 1.1.0
RedBay

Create online photo pages quickly with Redbay's ThumbWizard, the powerful step by step interface helps inexperienced and advanced users to create online photo albums.

Photo Album Helper 1
Light Development

Photo Album Helper can be used to reduce JPEG images in quality and size.

Image Converter .EXE 2.0.82
SoftTech InterCorp

Image Converter .

myVuz Digital Photo Wizard 3.14
myVuz.com

myVuz is a free, multi-functional and easy to use digital photo management, editing, and publishing application.