ImRe 3.0

ImRe is a simple tool to resize multiple images.

Developer:
Vickys Cool Softwares
software by Vickys Cool Softwares →
Price:
0.00
License:
Freeware
File size:
0K
Language:
OS:
Windows XP/Vista

(?)

Rating:

0

/5 (0 votes)
ImRe is a simple tool to resize multiple images.

Using ImRe, you can easily resize multiple images and save them in one of the seven different graphic formats which include Png, Jpeg, Gif, Bmp, Tiff, Emf, Wmf.

The main attraction of ImRe is that you can resize multiple images in one click i.e batch mode is supported, also you can convert batch of images from any of the mentioned format to any of the mentioned format .

The only thing you need to do is to specify new height and width of image in pixels or in percentage of original , or for conversion , only you can specify new height and width as 100%


Requirements
.NET Framework

tags

you can resize multiple multiple images height and and width new height mentioned format the mentioned specify new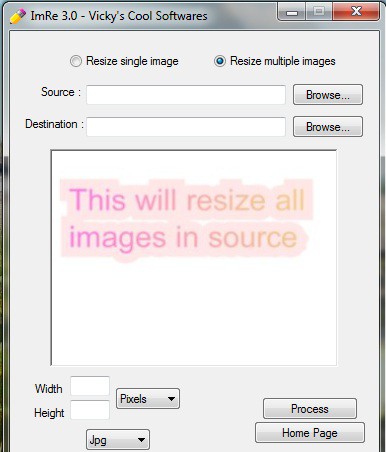 Download ImRe 3.0
Authors software

ImRe 3.0
Vickys Cool Softwares

ImRe is a simple tool to resize multiple images.

DVD Knife 4.0
Vickys Cool Softwares

DVD Knife is a free, simple but useful tool that will extract DVD clips from your DVD's.
Similar software

ImRe 3.0
Vickys Cool Softwares

ImRe is a simple tool to resize multiple images.

Imazer 1.5
Exmont

Imazer is a free and effective easy-to-use application which allows you to resize your images in all major graphic formats.

Fotosizer 1.4.0.75
Fotosizer.com

Fotosizer is a freeware batch image resizer tool which was designed for helping you to edit the zise of your photos.

OptimumJPEG 1.1.0.3
Theorica Software

OptimumJPEG (Jpeg Reduction Module) is a *FREE* utility that resizes and reduces size of images (JPEG files) and prepares them to be published on the internet.

BIMP Batch Image Processor 1.50
Cerebral Synergy

BIMP is a small and simple batch processor for image files, that allows you to perform various functions on multiple images.

Web Resizer 1.0.3.7216
Mino Studio

Web Resizer was made to convert and downscale common graphic format such as JPEG, PNG, WMF, TGA and so on.

Digital Image Tool 4.2.2
Digital Liquid

Do you take any photographs, own a digital camera or work in multimeda or design? Digital Image Tool is a free and user friendly tool that was created specifically to batch process images quickly, applying flexible resizing methods, rotation, cropping, scaling, watermarking, renaming and more.

Avatar Sizer 1.0.0.9
JQL

Avatar Sizer has been designed to make images smaller, quickly and extremely easily.

Visualizer Photo Resize 6.1
Visualizer Image Group

If you are the owner of a digital camera or you just need to resize multiple images to a smaller or bigger ratio, Visualizer Photo Resize can easily handle all this for you, using Freestyle Ratio or Stretched Aspect Ratio.

PhotoEdit 1.3.2
Xue Heng

PhotoEdit is a powerful photo editor, its source code is available, it can read, write, and manipulate an image in many image formats (over 38 major formats) including popular formats like TIFF, JPEG, PNG, PCD, PIC, PSD, and GIF.
Other software in this category

swf2avi 0.3
Pizzinni.Net

swf2avi is an utility you can use to convert or batch-convert Shockwave/Flash movies (swf) to videos (avi), bitmaps, bitmap-sequences (bmp, jpg).

Picture Convert to Hex II 1.1 beta
Ultimate Codes 32

Same as Picture Convert to Hex but this one has new functions like Color ignore, own background message and it can take pictures up to 300x300 pix.

kd winter V
Freeware World Team

kd winter is an utility yo can use to create JPG/JPEG thumbnails from your JPG/JPEG images.

Mihov Image Resizer 1.2
Miha Psenica

Mihov Image Resizer is a useful utility for batch resizing images in gif, bmp and jpg picture formats.

Nconvert 4.51
Pierre E GOUGELET

NConvert is a batch software for converting graphic files.