Free Image Converter 1.0.0.0

Free Image Converter is a simple software to resize images.

Developer:
Free Image Converter
software by Free Image Converter →
Price:
0.00
License:
Freeware
File size:
0K
Language:
OS:
Windows Vista

(?)

Rating:

0

/5 (0 votes)
Free Image Converter is a simple software to resize images. Its really useful if you have a digital camera, because you can significantly descrease the size of photos (sending more images in email, storing more photos on CD, flash or any other storage device, uploading photos to web sites).

Using Image Converter you can easily make your digital photos up to 25 times smaller. The most amazing thing is that you almost won't be able to see any difference.


Free Image Converter features
Storing files on your hard drive
Save a lot of hard drive space by decreasing image file sizes. Save a variety of things on your hard drive — not just your photos!

Sending Emails

All email boxes have limitations on storage size, by sending large image files you can quickly reach the maximum. Even if someone has a great deal of space available in their inbox, many email services have a limited attachment size which can result in undeliverable emails. Moreover, it is much faster to send and receive emails with smaller attachments.

If you send converted images, you will be able to send more photos faster and won't cause problems for yourself or friends and family.

Saving files on CDs, DVDs or USB Flash Drives

You can save more photos on CDs, DVDs or USB Flash Drives. Now when you go to visit your family, you don't need to choose which photos you want to bring with you. Just take them all!

Uploading images to web sites

Many sites where you can upload images have limits on storage size. Since you'll be able to upload smaller files, you'll be able to put many more pictures on a site. Also, many sites have limits on uploading file size — so if your photo is bigger than allowed, you will need to resize it anyway. Most importantly, uploading resized images is much faster.

So resize your photos using Free Image Converter and upload more images faster on any site and prevent headaches for both you and your friends.


Requirements
Microsoft .NET Framework 2.0

tags

you can image converter free image hard drive more photos cds dvds you will have limits many sites flash drives usb flash much faster your photos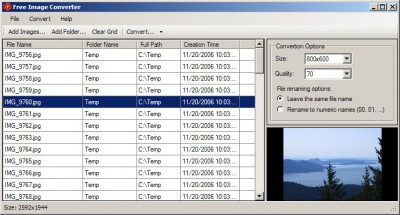 Download Free Image Converter 1.0.0.0

Download Free Image Converter 1.0.0.0

Authors software

Free Image Converter 1.0.0.0
Free Image Converter

Free Image Converter is a simple software to resize images.
Similar software

Free Image Converter 1.0.0.0
Free Image Converter

Free Image Converter is a simple software to resize images.

Buzz 3D Media Converter 1.00
Buzz 3D

Buzz 3D Media Converter is an application that allows you to easily process video or images for transfer over the Internet.

VSO Image Resizer 1.0.11b
Vso-Software

VSO Image resizer is a free tool that organizes your photos by shrinking their resolution or moving them within your hard drive.

Visualizer Photo Resize 6.1
Visualizer Image Group

If you are the owner of a digital camera or you just need to resize multiple images to a smaller or bigger ratio, Visualizer Photo Resize can easily handle all this for you, using Freestyle Ratio or Stretched Aspect Ratio.

XDenSer Image Shrink 1.0
XDenSer Software

Image Shrink is a tool to reduce JPEG images size.

Fotosizer 1.4.0.75
Fotosizer.com

Fotosizer is a freeware batch image resizer tool which was designed for helping you to edit the zise of your photos.

Photo Resize Magic 1.1
SOW

Photo Resize Magic is a free, useful and easy to use software for digital camera owners.

TurboFlix 2.0.0.215
Photoleap Inc

Turboflix makes it easy to send photos and videos to your friends and family.

PhotoRazor 1.4
Stormdance

Modern digital cameras take huge photos many megapixels in size - great for high quality printing, but too big to email to friends and family, and too large for displaying on web sites.

PixVillage Online Photo Sharing Software 2.0.2482
PixVillage

PixVillage is a free program that will help you share photos with your friends and family without limitations.
Other software in this category

swf2avi 0.3
Pizzinni.Net

swf2avi is an utility you can use to convert or batch-convert Shockwave/Flash movies (swf) to videos (avi), bitmaps, bitmap-sequences (bmp, jpg).

Picture Convert to Hex II 1.1 beta
Ultimate Codes 32

Same as Picture Convert to Hex but this one has new functions like Color ignore, own background message and it can take pictures up to 300x300 pix.

kd winter V
Freeware World Team

kd winter is an utility yo can use to create JPG/JPEG thumbnails from your JPG/JPEG images.

Mihov Image Resizer 1.2
Miha Psenica

Mihov Image Resizer is a useful utility for batch resizing images in gif, bmp and jpg picture formats.

Nconvert 4.51
Pierre E GOUGELET

NConvert is a batch software for converting graphic files.