GrabXP 7.0.0

GrabXP - Image capture, view and print.

Developer:
Axis Controls Limited
software by Axis Controls Limited →
Price:
0.00
License:
Freeware
File size:
0K
Language:
OS:
Windows XP/Vista

(?)

Rating:

0

/5 (0 votes)
GrabXP - Image capture, view and print. Grab any user defined area from the computer screen and save it as an image file. (Or grab the whole screen if you wish).

Images can be viewed, zoomed, streteched and then re-grabbed before saving or printing as BMP or JPEG etc.
tags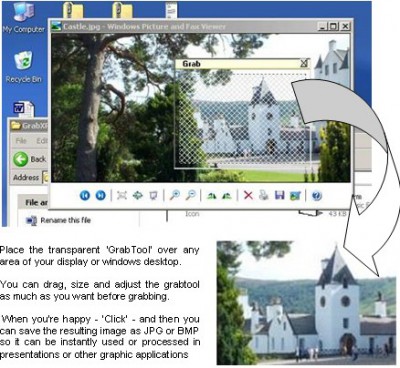 Download GrabXP 7.0.0
Authors software

Schredit V1.0j
Axis Controls Limited

Schredit - Why use schredit? After all, Windows allows you to delete files, documents, pictures and other data by simply dropping them into the trashcan and when you `empty the trash` those files are gone.

GrabXP 7.0.0
Axis Controls Limited

GrabXP - Image capture, view and print.
Similar software

GrabXP 7.0.0
Axis Controls Limited

GrabXP - Image capture, view and print.

Screen Grab Pro 1.8
Traction Software

Screen Grab Pro is a freeware screen capture tool.

Fast Screen Capture 1.0
Aleksei Taranov



Grab-It 1.10
BurnSoft

Grab-It is a free, quick and easy way to get a section for your screen to print or save to a file.

Gadwin PrintScreen 6.1
Gadwin Systems, Inc.

Want to create a screenshot suitable for saving or printing? Then just hit a key on your keyboard.

Capture The Screen 1.0
Tony Arntsen

Capture The Screen is a little program that will capture the screen, then save it into a file instantly.

Deskcam 7.3.15
iamcal software

Ever wanted to put your current desktop on your site/blog? Then this is the application for you! Deskcam will grab your current desktop, resize it and save it as either a JPEG or a GIF.

Softoria Capture 1.0
Ahmed Elragi

Softoria Capture is a quick-and-easy screen capture utility for Windows, which allows you to capture the entire screen, at any color depth and resolution.

AnimationXe 2.0.1
Xdream Production

AnimationXe is a many-sided and helpful application with the purpose of managing image files.

SnapShooter 2007 1.1.2584
Johan Johanson

SnapShooter 2007 is a little free program which will let you capture an image of the active window or screen directly to a file on your disk, rather than having to manually fire up an image processing app and save it from the clipboard yourself.
Other software in this category

!Glance 2.30
BlackSoftware

!Glance allows you to capture selected screen regions, windows, menu, buttons, toolbars or video frames and save them as BMP, GIF, or JPEG files.

Capture 1.1
Bernt Levinsson's

Capture is a small utility to capture areas from your screen.

MWSnap 3.00.0.74
Mirek Wojtowicz

MWSnap is a small but powerful Windows application for snapping (capturing) pictures from selected parts of the screen.

Ace WINScreen 4.5
Caltrox Software Systems

Ace WINScreen is the very popular, leading quality software of choice to Capture the Screen, Print & Save for the Personal Computer.

Turbosnap 3.0
Relaxing Software

Turbosnap is a powerful, yet easy to use screen capture utility.