Cat 3

Developer:
Poromenos
software by Poromenos →
Price:
0.00
License:
Freeware
File size:
0K
Language:
OS:
Windows Vista

(?)

Rating:

0

/5 (0 votes)
tags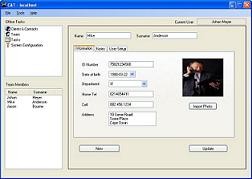 Download Cat 3
Authors software

PictView 3.2.0
Poromenos

PictView was developed to be an easy to use and very small picture viewer that supports bitmaps, GIFs, JPEGs, metafiles, icons and cursors.

Remote Infrared Control 1.0.4
Poromenos

RIControl can be used to control your programs with an ordinary remote control from a TV or stereo if you have an IR (Infrared) port in your computer IRControl is completely configurable (even contains its own scripting language), and with the integrated Artificial Intelligence, you can teach the program what the remote control buttons are.

LightFusion 2.2.0
Poromenos

LightFusion will enable the user to embed the files in an executable, still leaving them executable.

TraP 1.0.0
Poromenos

TraP (Tray Pager) is a little application which resides in the systray, allowing you to communicate with your friends.

Postman 2.1.1
Poromenos

Postman is a little e-mail check and send application that will reside in your systray.
Similar software
Other software in this category

JoinMe 1.41
Elias Konstadinidis



XDenSer NetMPTree 1.1
XDenSer Components



BadBlue Excel Collaboration Server 2.5
BadBlue



Ken Messenger Server 5.0.2
Wilcom2 Inc



KpyM Telnet Server 1.12
Kroum Grigorov