AnywhereTS 3.0.1

AnwhereTS - The free Thinstation config and deployment tool for Windows.

Developer:
Qzone
software by Qzone →
Price:
0.00
License:
Freeware
File size:
0K
Language:
OS:
Windows Vista

(?)

Rating:

0

/5 (0 votes)
AnwhereTS - The free Thinstation config and deployment tool for Windows. AnywhereTS-config is a configuration tool for Thinstation thin clients. It will allow you to customize and deploy thin clients completely from within a Windows environment.

AnywhereTS will enable you to setup a full thin clients solution in no more than 5 minutes on your server with rapid and free clients that boot from the server or from local CD.


AnywhereTS features
Supports Windows 2003 Server and Windows Server 2 as Terminal Servers

Installs and configures TFTP and DHCP as needed

Supports network boot via PXE, CD-ROM or floppy, flash card

Supports non-network boot via CD-ROM, flash card

Allows clients to connect to a Windows Terminal Server via Remote Desktop (RDP)

Supports configuration of client network drivers, sound drivers and graphics drivers

Supports international keyboard layouts

tags

thin clients flash card boot via network boot tool for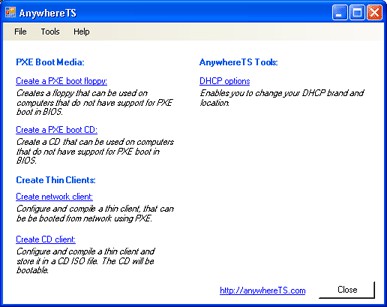 Download AnywhereTS 3.0.1
Authors software

AnywhereTS 3.0.1
Qzone

AnwhereTS - The free Thinstation config and deployment tool for Windows.
Similar software

AnywhereTS 3.0.1
Qzone

AnwhereTS - The free Thinstation config and deployment tool for Windows.

DHCP Explorer 1.0
Nsasoft llc

DhcpExplorer can be used to to discover DHCP servers on your LAN or local subnet.

wodDHCPServer 1.0.7.0
WeOnlyDo!

wodDHCPServer is a DHCP server component (Dynamic Host Configuration Protocol), available as COM object and ActiveX control.

VentriloX 1.12
Simple Install Crew

What is VTX? VTX is a communication package including the most used/liked game communicationprograms with servers.

Aloaha Fairy 1.0
Wrocklage Intermedia GmbH

If you need to convert your workstations to diskless clients and you need to switch the Operating System of a group of workstations in a matter of minutes or If you want to remove all portable media drives from your workstations but you are afraid you would need them for disaster recovery then it's just about time you switch to Aloaha Fairy! ALOAHA Fairy offers you the ultimate program to manage your network.

VirtualBox 1.3.8
InnoTek Systemberatung GmbH

VirtualBox is a general-purpose full virtualizer for hardware.

saNetStatus Server 0.52
Shane McAliece

saNetStatus Server is a free program that allows network administrators to store and manage network status information, and when used in conjunction with the saNetStatus Client installed on workstations, can then serve this information out to clients.

TSDropCopy 1.02
AnalogX

TSDropCopy is a free tool that lets you to transfer files using Terminal Services.

GOFF Network Backup Solution 1.0.0.6
GOFF Concepts

GOFF Network Backup Solution is your answer to automatic, set it and forget it, backup program.

VNC Central 0.019b
OhMyGoat

VNC Central is a program that will simplify the management of a large group of remote computers by allowing you to launch applications between them.
Other software in this category

PowerRipper 2.3
Mirea Alexandru

PowerRipper is a small CD Ripper & Mp3 encoder.

CD-DA to WAV 3.21
Moroboshi LUM

CD-Ripper with ASPI,MSCDEX,WindowsNT NativeDriver - Support Hispeed ON-THE-FLY Encoding with GOGO.

CD-DA X-Tractor 0.24
Jay A. Key

CD-DA X-Tractor is a CD ripper for that features intelligent jitter correction, Internet CDDB support, and on-the-fly MP3 encoding via BladeEnc or Lame_enc.

winLAME RC 4
Michael Fink

winLAME is an encoder for several audio formats, including mp3 (MPEG Layer 3), Ogg Vorbis and more.

Empathy Jukebox Lite 1.1
Librarysmith Software

Empathy is a virtual jukebox.