Empathy Jukebox Lite 1.1

Empathy is a virtual jukebox.

Developer:
Librarysmith Software
software by Librarysmith Software →
Price:
0.00
License:
Freeware
File size:
0K
Language:
OS:
Windows Vista

(?)

Rating:

0

/5 (0 votes)
Empathy is a virtual jukebox. It allows you to extract your audio CDs to MP3 format, managing them as complete albums (along with accompanying CD artwork). Access your music using a simple yet powerful interface that is as close to a Jukebox as we think you can get (CD and play list styles also supported). You can compile play lists or create random ones, view your album covers, print a catalogue of your music collection.

Empathy features several different interfaces to allow the easiest access to your stored music files.

CD player style - Allows the user to select albums as though loading a CD into a player and similar in interface to most popular CD player applications. It differs by allowing you to switch between all your albums in an instant.

Play-list style - Allows the user to compile play lists of individual tracks from across their entire music collection. Select an album and track and click to add to the list.

Random play-list style - Allows the user to compile a random play-list from either the entire collection or from a selected list of albums.

Jukebox style - This mode simulates a classic jukebox, allowing the user to browse through album covers and pick tracks.

EMPRIP (included) imports music from your CDs to your collection, allowing you to add album cover images, download the track listings from the internet and modify them if necessary.

You can optionally take the time to input information about your albums including Genre, Artist type, Date and Record label among others. With this information present, Empathy can filter the list of available albums to only include those that fit the criteria you select. Empathy also lets you store additional artwork from the album.

Other features include: Album selection by front cover thumbnails. Multiple user support. CD Burning support. Play list save/load. Scanner support. Speech synthesis DJ. LAN and removable media support. Printing of album artwork and CD jewel cases.
tags

play list the user allows the style allows you can list style the list random play from the your albums allowing you music collection your music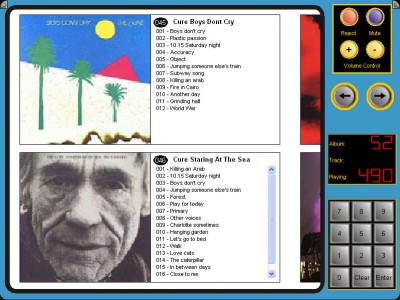 Download Empathy Jukebox Lite 1.1

Download Empathy Jukebox Lite 1.1

Authors software

Empathy Jukebox Lite 1.1
Librarysmith Software

Empathy is a virtual jukebox.
Similar software

Empathy Jukebox Lite 1.1
Librarysmith Software

Empathy is a virtual jukebox.

Obsidian 1.04
Matt Rendle

The idea behind Obsidian is to provide a simple interface for an MP3 collection of any size.

iFunPix 0.40.2591.19081
iFunPix

Organize your family photos, MP3 music collection, video files, with the ability to access and share them from anywhere.

BoxEasy Jukebox 1.9.7
Ziggyred Software

BoxEasy is a media player/organiser that uses Windows folder and file names rather than embedded (and often inconsistent) tag information to sort, display music tracks.

mCube Music Manager 20051221
Daniele Dellafiore

mCube is a digital music manager.

RockNAudio 2.7
RocknAudio

RockN Audio is an easy way to find and organize your music, giving you ultimate control of your MP3 / WAV and CD music collection.

iFunMusic 0.24
ifunpix

Do you have hundreds of MP3 files at home and you want to listen to them at work? Are you looking for a cool jukebox that will also show your album's cover art? Do you want to share new albums with your friends? iFunMusic is your answer.

Easy Album Manager 1.01.01
Olivier Le Pogam

Easy Album Manager was made to help people who have a lot of audio CDs and enjoy to play their encoded version on their computer.

VisiTunes 0.9.1
NaiveSoft

What is VisiTunes? VisiTunes is a useful and reliable content-based MP3 playlist generator and jukebox.

Jajuk 0.3.4.1
Bertrand Florat

Jajuk is a Java music organizer providing a fully-featured application to advanced users with large or scattered music collections.
Other software in this category

PowerRipper 2.3
Mirea Alexandru

PowerRipper is a small CD Ripper & Mp3 encoder.

CD-DA to WAV 3.21
Moroboshi LUM

CD-Ripper with ASPI,MSCDEX,WindowsNT NativeDriver - Support Hispeed ON-THE-FLY Encoding with GOGO.

CD-DA X-Tractor 0.24
Jay A. Key

CD-DA X-Tractor is a CD ripper for that features intelligent jitter correction, Internet CDDB support, and on-the-fly MP3 encoding via BladeEnc or Lame_enc.

winLAME RC 4
Michael Fink

winLAME is an encoder for several audio formats, including mp3 (MPEG Layer 3), Ogg Vorbis and more.

Empathy Jukebox Lite 1.1
Librarysmith Software

Empathy is a virtual jukebox.