SplitWave 1.02

SplitWave is a free tool that divides a single wave (.

Developer:
KGP Software
software by KGP Software →
Price:
0.00
License:
Freeware
File size:
0K
Language:
OS:
Windows Vista

(?)

Rating:

0

/5 (0 votes)
SplitWave is a free tool that divides a single wave (.wav) file into separate tracks by automatically detecting periods of silence.

SplitWave can handle large (> 1 Gig) sound files with ease, by reading the sound data in small chunks at a time. The output files are written in the same format as the input file
tags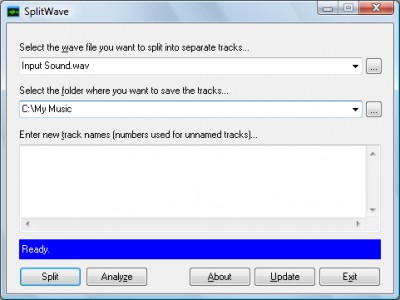 Download SplitWave 1.02
Authors software

SplitWave 1.02
KGP Software

SplitWave is a free tool that divides a single wave (.

GlobalFind 1.06
KGP Software

GlobalFind can search through files for specific data and display the results in a list.

SwiftLoad 1.02
KGP Software

SwiftLoad is a small, simple and easy to use tool for managing your downloads from internet.

EmailChecker 1.17
KGP Software

EmailChecker software represents a simple Windows utility that will allow you to be notified when you have new email by displaying a popup window and/or making an alert sound.

MassMail 1.07
KGP Software

MassMail software represents a utility that will send out e-mail to multiple addresses at one time (mass mailings).
Similar software

SplitWave 1.02
KGP Software

SplitWave is a free tool that divides a single wave (.

Wave Enhancer 2.0
Javier Thaine

Wave Enhancer is an application that makes wave files sound better.

SoundPad 1.10.10
Menasoft

SoundPad is a full-featured sound wave editor for Windows.

Focus Free CD Ripper 3.1
Peng Yutao

Free CD Ripper is a freeware program and easy to use.

SynthFont 1.04
Microfast

SynthFont is a free and useful tool for playing MIDI files making use of SoundFonts.

Slice Audio File Splitter 1.0
NCH Swift Sound

Slice is a free audio file splitter which is designed to take mp3 files and cut them into either a set number of files or files of a set duration.

AmazingMIDI 1.70
Araki Software

AmazingMIDI is a WAV to MIDI converting tool used in music transcription.

Ccy Alarm Clock 2.3.2
Ccy JC_HK

Ccy Alarm Clock is a useful utility that reminds you with sound or a message! Every day we have much work to do.

Fx New Sound Free Version 5.1.2
J. Hepple, Inc. DBA Fx, Sound and Magic

Fx New Sound is an application that lets you replace the sound in your digital movies with music or narration.

AnalogX Vocoder 1.01
AnalogX

Simply supply a wave file with some speech (or singing), supply another wave file with an instrument playing, and voila! Your instrument will now be modulated by the speech wave and it will sound as if it's talking.
Other software in this category

Pocket Voice Recorder 3.4 Build 34021019
XemiComputers Ltd.

Pocket Voice Recorder is freeware sound recorder that records equally well from microphone and any other input line available with your sound card.

Audacity 1.2.6
Audacity

Audacity is a free audio editor.

MP3 Splitter 2.0 Final
Hans-Jörg Happel / codevisions

MP3 Splitter allows you to split MP3-files either by size or by time.

Mp3 Turbo Injector 1.5
ULTIMATE SYSTEMS

MP3 Turbo Injector is a 32-bit application for Windows, which inserts a MPEG audio (MP3) file into another MP3 file.

mp3DirectCut 2.05
Martin Pesch

mp3DirectCut is a very small program that helps you edi MPEG audio directly.