Proton Cd Player 2.6

Developer:
Proton Software - Salih GUCLU
software by Proton Software - Salih GUCLU →
Price:
0.00
License:
Freeware
File size:
0K
Language:
OS:
Windows Vista

(?)

Rating:

0

/5 (0 votes)
Full freeware Cd player
tags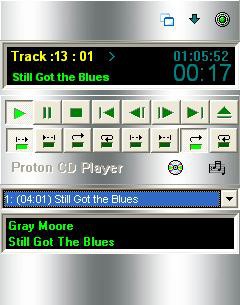 Download Proton Cd Player 2.6
Authors software

Proton Cd Player 2.6
Proton Software - Salih GUCLU


Similar software

Flash Movie Player 1.5
Eolsoft

Flash Movie Player is a freeware standalone player for Shockwave Flash (SWF) animations, based on Macromedia Flash Player plug-in.

Proton Cd Player 2.6
Proton Software - Salih GUCLU



Full Screen Player 0.6.0 Final
LendaSoft

DVD / video player for the amateurs of convenient full screen playback.

Swiff Player 1.1
GlobFX Technologies

Swiff Player is a Free stand-alone player that allows Web Designers and Flash Users to easily play their Flash movies.

Axife FM Player Lite 2.05
Axife Software

Axife FM Player Lite is the best freeware application for TV/Radio cards.

MP3 Tunes 2.2.3c
DJ Maze

MP3 Tunes is a freeware MP3 player created by a DJ for any kind of user that uses Windows.

FastStone Flash Player 2.2
FastStone Soft

FastStone Flash Player is a Flash file (*.

MicroCD 1.0
SolidSoftware

MicroCD is a freeware Minature CD Player for your desktop.

Pod Player for Windows 1.4.0
iPodSoft.com

Pod Player is a freeware software application to be used with your iPod.

AudioPlayer 2.6
FreeSoft

AudioPlayer is a freeware application and a Windows Media Player replacement.
Other software in this category

UltraPlayer 2.112
Ultra Player

UltraPlayer is a real All In One Box multimedia tool and is freeware.

FreeAmp v2.2.0a
FreeAmp Team

FreeAmp is an extensible, cross-platform audio player.

Domino Player 1.0
Dominion d.o.o.

Domino Player is cool audio player capable of playing MP3, OGG, WAV files and audio CDs.

BlueVade Jukebox v1.1
BlueVade Software

BlueVade JukeBox is a web based jukebox program for MP3 files.

Carlanthano 4.5.1740
KanastaCorp

Carlanthano is a jukebox for Windows.