picture-shark 1.0

With Picture-shark you can watermark and copyright your picture galleries.

Developer:
PICTURE-SHARK dev.
software by PICTURE-SHARK dev. →
Price:
0.00
License:
Freeware
File size:
0K
Language:
OS:
Windows Vista

(?)

Rating:

0

/5 (0 votes)
With Picture-shark you can watermark and copyright your picture galleries. Use logos, texts or any other images. With its wizardlike interface you can easily create impressive results.

Picture-shark processes houndreds of pictures in a minute. It supports transparence and realtime preview. The unique feather feature generates smart edges within one click.

Picture-shark rises above all other products due to its speed, compatibility with all windows operating systems, the small file size and its realtime preview. After setting position, transparent color, opacity and feather (smart edges), these settings are applied in batchmode to all pictures regardless of their size. Standard file-formats and different jpg-compressions are supported.

Picture-shark's impressive advantage is it's "feather"-feature. It smoothes the edges between the applied watermark and the picture. It applies antialiasing to the stamp and removes the "edged" borders.


Limitations
Cannot be used comercially

tags

picture shark smart edges feather feature watermark and you can realtime preview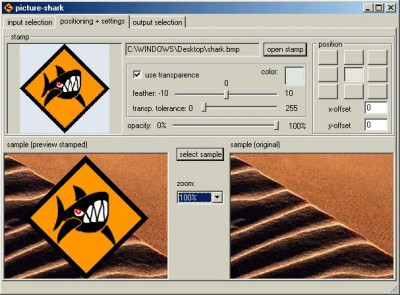 Download picture-shark 1.0
Authors software
Similar software

picture-shark 1.0
PICTURE-SHARK dev.

With Picture-shark you can watermark and copyright your picture galleries.

Picture Shark 1.0 pre
C. Zink

Picture-shark is the best solution for people who want to "stamp" visible text or logos on their image files.

ICQ Lite Picture Changer 3.1.8
Christian Zeller

With ICQLite PictureChanger 3 you can remove the advertising banners from your ICQ Lite and replace the banner above your contactlist with an own picture.

Photo Watermark 1.0
Tamar Solutions

Photo or picture watermarking is a very important aspect to keeping your images safe and to stop others copying your photo's.

visMill 3.0
SFR GmbH

visMill is an application, that prepares any pictures or images for usage as visDoors (password picture) for our products visKey, visKeeper und visNotes.

MSN My Picture 1.8.2627.34512
Pmcc

MSN My Picture can help you customize your MSN Messenger picture.

Picture Viewer 1.0
Scalabium Software

Picture Viewer gives you a simple viewer for the most common image formats.

WIDO Picture Viewer 2.7
WIDO Software

WIDO Picture Viewer is an easy to use application that helps you view your pictures.

Print Picture with Viewer 1.1
Redei

Print Picture with Viewer is a very simple picture viewer and printer for inexperienced users.

Delgado Desktop 2.2.4
DNsoft.be

Delgado Desktop will daily change your wallpaper.
Other software in this category

ASCII Generator dotNET 0.7.2
Jonathan Mathews Software

The ASCII Generator dotNET (ascgen2) is a 32-bit Windows text editor that will allow anyone to easily convert images into artwork created from text characters.

RainbowGround 1.1
Dmitry G. Kozhinov software

RainbowGround is an application for background images creation.

MouseZoom 1.5
A. & M. Neuber GbR

With MouseZoom you can use your mouse as a magnifier, color dropper and distance analyser.

Tales Animator 2.0
DollySoft

DollySoft Tales Animator is an application that will allow you to develop high quality animations easily.

ABCFastDirectory 1.0
ABCFastDirectory.com