PhotoFiltre 6.2.7

PhotoFiltre is a complete image retouching program.

Developer:
Antonio Da Cruz
software by Antonio Da Cruz →
Price:
0.00
License:
Freeware
File size:
0K
Language:
OS:
Windows Vista

(?)

Rating:

0

/5 (0 votes)
PhotoFiltre is a complete image retouching program.

PhotoFiltre allows you to do simple or advanced adjustments to an image and apply a vast range of filters on it.

PhotoFiltre is simple and intuitive to use, and has an easy learning curve. The toolbar, giving you access to the standard filters with just a few clicks, gives PhotoFiltre a robust look.

PhotoFiltre is an image editor and effects package.

PhotoFiltre comes with many features that rival some commercial packages, as well as additional add-on that can be downloaded from the web site.

PhotoFiltre offers all the standard editing features (selection, clone brush, paint brush etc.) as well as a large selection of image effects, photo masks, image adjustments, thumbnail browser and much more.

PhotoFiltre also supports batch processing to apply filters, sizing, adjustments and transformations to a large number of images at once.

Its wide range of filters allows novice users to familiarize themselves with the world of graphics. You can find the standard adjustment functions (Brightness, contrast, dyed, saturation, gamma correction) and also artistic filters (watercolor, pastels, Indian ink, pointillism, puzzle effect).

There are more than 100 filters to be discovered!


Limitations
Commercial or professional use requires a registration

tags

standard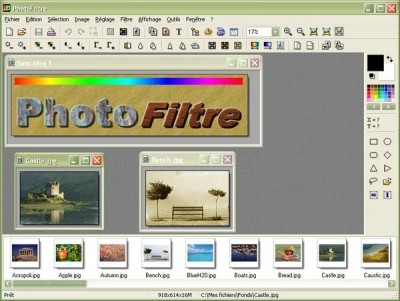 Download PhotoFiltre 6.2.7
Authors software

PhotoFiltre 6.2.7
Antonio Da Cruz

PhotoFiltre is a complete image retouching program.
Similar software

PhotoFiltre 6.2.7
Antonio Da Cruz

PhotoFiltre is a complete image retouching program.

VCW VicMan's Photo Editor 8.1
VicMan Software

VCW VicMan's Photo Editor is a smart image editor with an intuitive interface and a wide variety of features.

PC Image Editor 3.60
Program4Pc Inc.

PC Image Editor is a free graphics editor that has many features of a professional product.

Image Analyzer 1.27
MeeSoft

Image Analyzer is a useful image editing, enhancement and analysis application that supports JPEG 2, BMP, CUR, ICO, WMF, EMF, PNG, JPEG and PCX for read/write and RAS, PNM, PGM, PPM, HIPS for reading.

PhotoEditor 1.0
Canadownload

Photoeditor is a powerful image and photo editor, picture retouching tool, web album creator, image browser and Photoshop Filters Host Application for Windows 95/98/NT/2000/XP.

Brush Strokes Image Editor 1.0
Paul Bird

Free paint program - graphics editor - photo manipulator - bitmap editor - or whatever else you want to call it.

Babya Photo Workshop 11.0.1
Babya Software Group

Babya Photo Workshop Professional is a free and professional image editor.

Image Enhance 3.2.4
D. Backstroem

Image Enhance is a free image editor that comes with Drag & Drop feature.

Phnom Penh Image Scaler 1.4.1
Khmer Lingo Project

Phnom Penh Image Scaler is a free and light-weighted image scaling & album generating software.

Imagelys Picture Styles 10.9.0
Jean Bernard Roussilhe

Imagelys Picture Styles application is a way of creating an unlimited number of beautiful graphic images in a minimal amount of time.
Other software in this category

HoverMatch 1.1
Hover Inc.

HoverMatch is a utility designed to allow desktop customizers to modify exiting themes and skins to their tastes by altering an images Hue, Saturation and Brightness values and saving the results.

Texture Processor 1.3
Paurex

The basic algorithm placed into the heart of it allows to get practically unlimited quantity of complex textures in a minimal amount of time.

Picture Shark 1.0 pre
C. Zink

Picture-shark is the best solution for people who want to "stamp" visible text or logos on their image files.

PictureClip v2.5
The Iron-FE-Works

PictureClip takes a Bitmap image file and sections it out evenly into separate files so that you can make a new menu for your website.

PhotoEdit 1.3.2
Xue Heng

PhotoEdit is a powerful photo editor, its source code is available, it can read, write, and manipulate an image in many image formats (over 38 major formats) including popular formats like TIFF, JPEG, PNG, PCD, PIC, PSD, and GIF.