Mozekty 2.3

Mozekty play your audio streams and radio stations.

Developer:
INFRADRIVE
software by INFRADRIVE →
Price:
0.00
License:
Freeware
File size:
0K
Language:
OS:
Windows Vista

(?)

Rating:

0

/5 (0 votes)
Mozekty play your audio streams and radio stations.

Mozekty is a free fast tool to play your audio streams and radio stations, you can also get a list from of latest radio statios on the internet and save your favourite stations.


Mozekty features
Listen to hundreds of internet radio stations from around the world with this full-featured player.

Add, edit or delete stations from your stations database.

Check for latest stations found on the internet by connecting to Bitsnips.com.

Get full info and statistics about the current playing stream.

Full control from Mozekty system tray icon when the application is minimized.

Friendly user interface.

Great tool with small size.


Requirements
550 MHZ Pentium 3 CPU

64 MB RAM

5 MB free space on hard disk

Microsoft .NET Framework 2.0

Microsoft Windows Media Player

tags

radio stations stations mozekty stations from the internet and radio your audio audio streams streams and play your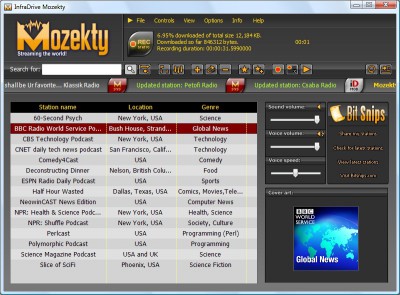 Download Mozekty 2.3
Authors software

Mozekty 2.3
INFRADRIVE

Mozekty play your audio streams and radio stations.
Similar software

Mozekty 2.3
INFRADRIVE

Mozekty play your audio streams and radio stations.

Online Radio Tuner 1.1.17
Bassic Technologies

Online Radio Tuner is a small and easy to use radio player that will help you listen to online radio stations and record streams to your computer Here are some key features of "Online Radio Tuner": · Playlist support: .

iRadioNet 2.01
Sitex, Ltd.

iRadioNet - Super light and easy-to-use Internet Radio Player for Microsoft Windows to play streaming music from thousands of free online stations.

Solway's Internet TV and Radio 2.0
Kevin Solway

With Solway Internet TV and Radio you can listen to over a thousand free radio and TV stations online on the Internet.

Viddi Radio Player 1.6
Vidar Grasdal

With several hundred pre tuned stations from all across the world in one small program you will no longer need those browser based 'radio players' overfilled with ads.

Internet Radio Tuner 2.0.2 Build 70
Bleu Canard Software

Internet Radio Tuner allows you to listen to hundreds of radio stations on the Internet and record them to MP3.

Screamer Radio 0.3.9 Build 20070222 Beta
David Zidar

Screamer Radio is an Internet Radio Player, this means that it will stream audio data to your system via your internet connection, it does not pick up radio signals from local radio stations and you cannot use Screamer Radio to broadcast your own radio station.

DRS 2006 Webreceiver 1.2
DRS Systemtechnik

With the DRS 2006 Webreceiver you can manage all your favorite internet radio stations and listen to them by just a single click.

Radio 1.0
Ajadi

Listen live worldwide radio stations on your pc 100% free using Radio application.

HMRadio for RealPlayer 2.5
HexeMedia

HMRadio is a 100% FREE radio plugin for RealPlayer.
Other software in this category

UltraPlayer 2.112
Ultra Player

UltraPlayer is a real All In One Box multimedia tool and is freeware.

FreeAmp v2.2.0a
FreeAmp Team

FreeAmp is an extensible, cross-platform audio player.

Domino Player 1.0
Dominion d.o.o.

Domino Player is cool audio player capable of playing MP3, OGG, WAV files and audio CDs.

BlueVade Jukebox v1.1
BlueVade Software

BlueVade JukeBox is a web based jukebox program for MP3 files.

Carlanthano 4.5.1740
KanastaCorp

Carlanthano is a jukebox for Windows.