Magic Enhancer Lite 1.0

Magic Enhancer Lite is a free Photoshop-compatible plug-in for Windows.

Developer:
ImageSkill
software by ImageSkill →
Price:
0.00
License:
Freeware
File size:
0K
Language:
OS:
Windows Vista

(?)

Rating:

0

/5 (0 votes)
Magic Enhancer Lite is a free Photoshop-compatible plug-in for Windows.

Using Magic Enhancer you can essentially improve your photos – adjust lightness, contrast and color balance.

Magic Enhancer is perfect for enhancement image and photo with lack of lightness or uneven illumination, silhouetted images on dark background.

You can adjust local contrast of your photos, emphasize fine details and make your photos more expressive. Convenient color temperature control allows fixing color balance defects easily.

Plug-in has attractive and user-friendly interface, when in use you can keep an eye result histogram. Magic Enhancer has simple installation procedure; installer detects more popular graphic hosts automatically.

The shareware version Magic Enhancer Pro has addition features like camera noise suppression, script (action) feature, presets feature and 16-bit RGB and Grayscale image mode support.


Magic Enhancer Lite features
Adjusting local contrast of your photos and emphasizing fine details

Removing noise

16-bit image mode support

Script (action) feature

Preset feature

Free upgrade

Free technical support


Limitations
Features restriction


Requirements
Requires Photoshop-compatible graphic host program

tags

magic enhancer your photos you can action feature mode support image mode script action color balance enhancer lite photoshop compatible local contrast fine details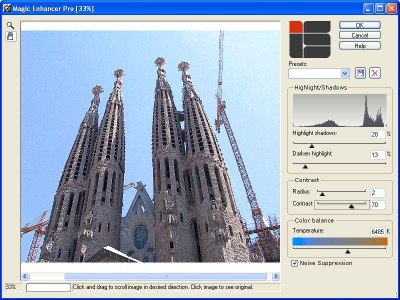 Download Magic Enhancer Lite 1.0

Download Magic Enhancer Lite 1.0

Authors software

Outliner 2.0
ImageSkill

Outliner gives a user the easiest way to get image contouring with desired quality.

Magic Enhancer Lite 1.0
ImageSkill

Magic Enhancer Lite is a free Photoshop-compatible plug-in for Windows.
Similar software

Magic Enhancer Lite 1.0
ImageSkill

Magic Enhancer Lite is a free Photoshop-compatible plug-in for Windows.

Free Digital Camera Enhancer 1.3
MediaChance.com

Free DCE does the hard job of noise reducing and automatic balance control for you.

Photo Resize Magic 1.1
SOW

Photo Resize Magic is a free, useful and easy to use software for digital camera owners.

Batch AutoCorrector 0.8
VicMan Software

Batch AutoCorrector will enhance your digital photos automatically! Whether it is due to poor lighting or camera settings, images often lack contrast, have an unwanted color cast or "muddy" look and dull appearance.

Auto Adjust Photo 0.23
Andras Horvath

aaPhoto is a small command-line image manipulation tool that allows the user to easily correct family photos.

Palfun 6.6.5
Palfun Team

Palfun is feature enhancer plug-in for AOL Instant Messenger.

Wave Enhancer 2.0
Javier Thaine

Wave Enhancer is an application that makes wave files sound better.

Magic RDS 2.7a
Jan Kolar

Magic RDS is a program for the PIRA32 RDS encoder control under all versions of MS Windows.

Magic Kingdom Screensaver 1.0
Sorcerer1.com

The Magic Kingdom is a place which little and big kids never forget.

FastFix 1.3
S.W. Upham

FastFix is a single Photoshop-compatible plug-in filter that allows you to quickly access the most common image enhancement controls though one easy-to-use dialog.
Other software in this category

HoverMatch 1.1
Hover Inc.

HoverMatch is a utility designed to allow desktop customizers to modify exiting themes and skins to their tastes by altering an images Hue, Saturation and Brightness values and saving the results.

Texture Processor 1.3
Paurex

The basic algorithm placed into the heart of it allows to get practically unlimited quantity of complex textures in a minimal amount of time.

Picture Shark 1.0 pre
C. Zink

Picture-shark is the best solution for people who want to "stamp" visible text or logos on their image files.

PictureClip v2.5
The Iron-FE-Works

PictureClip takes a Bitmap image file and sections it out evenly into separate files so that you can make a new menu for your website.

PhotoEdit 1.3.2
Xue Heng

PhotoEdit is a powerful photo editor, its source code is available, it can read, write, and manipulate an image in many image formats (over 38 major formats) including popular formats like TIFF, JPEG, PNG, PCD, PIC, PSD, and GIF.