JavaScript Animator Express 1.10

JavaScript Animator Express is an application that lets you easily create animation from image files (GIFs and JPGs) on your local drive.

Developer:
NirSoft
software by NirSoft →
Price:
0.00
License:
Freeware
File size:
0K
Language:
OS:
Windows Vista

(?)

Rating:

0

/5 (0 votes)
JavaScript Animator Express is an application that lets you easily create animation from image files (GIFs and JPGs) on your local drive.

The animation is achieved by creating a simple HTML page with JavaScript animation, and running it on your default browser.
tags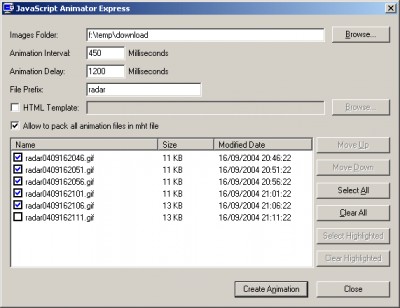 Download JavaScript Animator Express 1.10

Download JavaScript Animator Express 1.10

Authors software

Access PassView 1.12
NirSoft

Access PassView 1.

Netscapass 2.03
Nirsoft

Netscapass helps you recover Netscape mail passwords.

IECookiesView 1.79
NirSoft

IECookiesView is a small and handy utility, that displays the details of all cookies that Internet Explorer stores on your computer.

AsterWin 1.20
NirSoft

AsterWin reveals the password stored behind the asterisks in standard password text-boxes as used by many windows applications (FTP clients, E-mail programs etc.

DriverView 1.47
NirSoft

DriverView utility displays the list of all device drivers currently loaded on your system.
Similar software

JavaScript Animator Express 1.10
NirSoft

JavaScript Animator Express is an application that lets you easily create animation from image files (GIFs and JPGs) on your local drive.

Pivot Stickfigure Animator 2.2
Peter Bone

Pivot Stickfigure Animator is a unique software, that allows you to create stick figure animations easily and without any artistic skills.

SeqDownload 1.12
NirSoft Freeware

SeqDownload - many Web sites provides "live" images that are automatically updated every few seconds or minutes.

TweenMaker Student Version 1.2
Elecorn

TweenMaker application is a patent pending vector based cartoon animation system that allows an animator to create high quality cartoon character inbetweens with "life".

GifSplitter 2.0
XoYo Software

GifSplitter can split gif animation to image file(s) list.

Movies 12
JanSoft

Movies 12 is a GIF-Animator with 98 animation wizards including text and actor wizards.

JavaScript StarField Background 1.0
USINGIT.COM

Add moving star animation effect to background of web pages.

AniS 1.0
Tom Whittaker

AniS is a free applet which can be used for simple animation of two or more images.

Bitmaps Optimized Animation 1.0
MCoP

BOA is a type of animation file suitable for videos without too much image changes.

Status Bar Javascript Magic 1.0
Likno Software

Status Bar Javascript Magic is a free application that was specially designed for the web developer who wants to animate the status bar of his/her web pages, in the easiest possible manner, without the need to write a single line of code! There are quite a few scripts available over the internet that can be used for creating Status Bar effects.
Other software in this category

ASCII Generator dotNET 0.7.2
Jonathan Mathews Software

The ASCII Generator dotNET (ascgen2) is a 32-bit Windows text editor that will allow anyone to easily convert images into artwork created from text characters.

RainbowGround 1.1
Dmitry G. Kozhinov software

RainbowGround is an application for background images creation.

MouseZoom 1.5
A. & M. Neuber GbR

With MouseZoom you can use your mouse as a magnifier, color dropper and distance analyser.

Tales Animator 2.0
DollySoft

DollySoft Tales Animator is an application that will allow you to develop high quality animations easily.

ABCFastDirectory 1.0
ABCFastDirectory.com