HPI Converter 0.0518

Excellent source libraries of photographic stock images are sold by Hemera www.

Developer:
Igor Tolmachev
software by Igor Tolmachev →
Price:
0.00
License:
Freeware
File size:
0K
Language:
OS:
Windows Vista

(?)

Rating:

0

/5 (0 votes)
Excellent source libraries of photographic stock images are sold by Hemera www.hemera.com, under the product name Hemera Photo Objects.

Unfortunately, Hemera has not published the HPI file format. Any HPI file contains color and mask information: color image information is presented in JPEG format, and the grayscale mask information is presented in PNG format.

HPI Converter application allows you to open, display, and extract the two data components, JPEG image and PNG mask, from photographic stock images provided by Hemera ('.hpi' file extension).


Requirements
.NET Framework 2.0

tags

hpi file mask information stock images photographic stock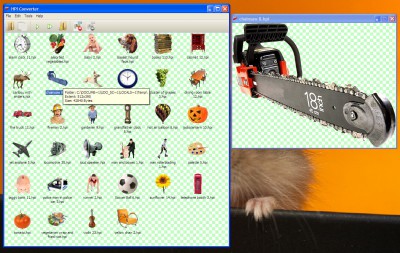 Download HPI Converter 0.0518
Authors software

Window Minimizer 1.2
Igor Tolmachev

Window Minimizer is small tool that allows you to minimize to the System Tray and restore each of the desktop window by clicking system menu item or pressing user-defined hot key.

Network Lights 1.1
Igor Tolmachev

Network Lights is a Windows application, which blinks keyboard LEDs (Light Emitting Diode) indicating outgoing and incoming network packets on network interface.

Host 1.0
Igor Tolmachev

Host application is a command prompt Windows utility ported from FreeBSD Host utility.

Link Encoder 1.0
Igor Tolmachev

Link Encoder enables you to encode your email and other links on your website so they can't be extracted by rogue internet spiders looking for email addresses to add to junk mailing lists.

Ping Terminal 2.5
Igor Tolmachev


Similar software

HPI Converter 0.0518
Igor Tolmachev

Excellent source libraries of photographic stock images are sold by Hemera www.

SplitPhotoJPEG 1.1
Polybytes

SplitPhotoJPEG is a utility to break a Photo-JPEG image file into its constituent JPEG/JFIF format image strips.

MAX Image Converter 1.0
Igor P. Zenkov

MAX Image Converter will help you export from and create 'max' image format files as well as convert various image files from one format to another.

Icon sushi 1.21
towofu

icon sushi it is an icon convert tool that supports the mask editor and the creation of Windows XP 32bit icons.

Web Resizer 1.0.3.7216
Mino Studio

Web Resizer was made to convert and downscale common graphic format such as JPEG, PNG, WMF, TGA and so on.

IBrowse 4.00.2
MW Graphics

Simple image file browser that will display information about the image.

CRW Repair 1.0.0.49
GetData Pty Ltd

CRW Repair is a data recovery tool designed for Canon RAW (.

PhotoEdit 1.3.2
Xue Heng

PhotoEdit is a powerful photo editor, its source code is available, it can read, write, and manipulate an image in many image formats (over 38 major formats) including popular formats like TIFF, JPEG, PNG, PCD, PIC, PSD, and GIF.

ELMathSolver .NET DLL 2.3
ELSoft

ELMathSolver is pure .

Image Navigator 3.2
VIMAS Technologies

Image Navigator is a useful application that allows you to efficiently browse and organize images on your computer and manage Web Photo Albums.
Other software in this category

swf2avi 0.3
Pizzinni.Net

swf2avi is an utility you can use to convert or batch-convert Shockwave/Flash movies (swf) to videos (avi), bitmaps, bitmap-sequences (bmp, jpg).

Picture Convert to Hex II 1.1 beta
Ultimate Codes 32

Same as Picture Convert to Hex but this one has new functions like Color ignore, own background message and it can take pictures up to 300x300 pix.

kd winter V
Freeware World Team

kd winter is an utility yo can use to create JPG/JPEG thumbnails from your JPG/JPEG images.

Mihov Image Resizer 1.2
Miha Psenica

Mihov Image Resizer is a useful utility for batch resizing images in gif, bmp and jpg picture formats.

Nconvert 4.51
Pierre E GOUGELET

NConvert is a batch software for converting graphic files.